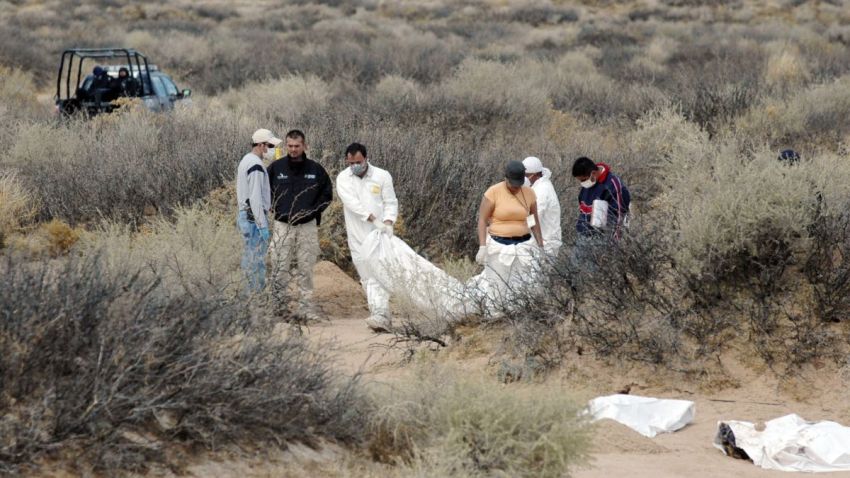 CIUDAD JUAREZ, Mexico — Police acting on a tip found nine bodies partially buried in the desert on the outskirts of the Mexican border city of Ciudad Juarez, and authorities announced the arrest of a suspected leader of a drug cartel hit squad.

Investigators searched the desert site south of the city on Saturday to see whether there are any more bodies.

An official with the state prosecutor's office who declined to be named in line with department policy says a police officer's badge was found at the site. Authorities were working to identify the bodies.

State security official Enrique Torres Valadez said a total of nine bodies, seven male and two female, have been found so far.

"One was handcuffed, all were tortured," he said. "They had been there for days or maybe weeks."

Ciudad Juarez, a city of 1.3 million people across the border from El Paso, Texas, has been hit by a wave of drug-fueled violence, prompting federal authorities to dispatch thousands of soldiers.

Torres said 1,500 more troops were arriving Saturday, on top of 2,150 who arrived Friday.

Farther east, in the border city of Reynosa, federal police announced Saturday that they had arrested a man who allegedly led operations there for the feared Zetas, a group of hit men for the Gulf drug cartel.

Sergio Pena Mendoza, 39, is also suspected of participating in an unsuccessful plot to free an imprisoned Zetas leader from jail in neighboring Guatemala, authorities told a news conference in Mexico City.

Pena Mendoza was arrested after he tried to flee a police patrol in a stolen pickup truck with Texas plates. Police found an assault rifle in the truck and said Pena Mendoza is suspected of killing a police official and a businessman in southern Mexico.

Interim Federal Police Commissioner Rodrigo Esparza said Pena Mendoza achieved the same rank in the Zetas — and was a possible replacement for — Jaime Gonzalez Duran, also known as "The Hummer," a founding member of the gang who was arrested in Reynosa in November.

Questioned by reporters as he was led through police installations in Mexico City, Pena Mendoza denied the accusations.

Also Saturday, a male suspect threw a hand grenade at police officers in the western city of Guadalajara, according to a statement from the Jalisco state prosecutor's office. The statement did not report any injuries, and local media said nobody was hurt because the device rolled into a parking lot.

Police detained the suspect and later found 14 more grenades and 10 assault rifles in his home.

Copyright AP - Associated Press