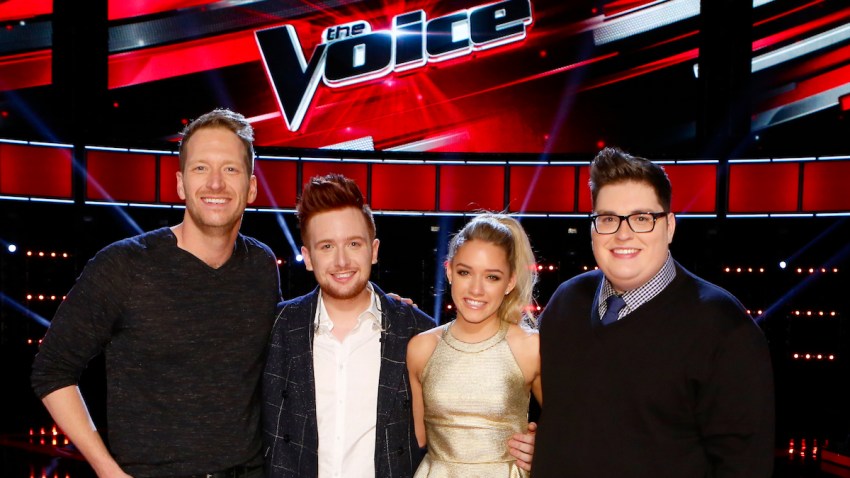 It's the final countdown! On Tuesday, Carson Daly will crown the ninth winner of "The Voice." And now, it's up to America to decide who that person will be. The final four singers took the stage on Monday night with three performances in a bid to follow in the footsteps of Sawyer Fredericks and his predecessors. Let's dive into their finale performances:
Jordan Smith, Team Adam
Ever since the Kentucky singer's audition, which allowed the audience to experience his rendition of "Chandelier" blind, as the judges do, he's been the most-hyped contestant of the season. His competitors told E! News that they thought he was the one to beat. In the finale, he took on Julie Andrews' big number from The Sound of Music, "Climb Ev'ry Mountain," plus the Christmas song "Mary Did You Know" and a duet with coach Adam Levine on "God Only Knows" by the Beach Boys—which definitely redeemed Team Adam's disaster that was their "Wouldn't It Be Nice" earlier in season nine.
CLICK: Find out who the finalists are singing with in the finale.
Emily Ann Roberts, Team Blake
The 16-year-old singer has been a quieter success story than Jordan, but there's no doubt she's come into her own throughout the course of the competition. But could her nerves have gotten the best of her during her performance of "Blue Christmas?" She teamed up with coach Blake Shelton on the Dolly Parton-Kenny Rogers classic "Islands In the Stream"—as country classics have been her strong suit, that could've been a smart choice. Her solo was "Burning House" by Cam.
Jeffery Austin, Team Gwen
As always, Austin gave a trio of emotional performances during his turn. His first performance was formidable "O Holy Night," and he got into a groove with his latter performance "Stay" by Sugarland. He teamed up with coach Gwen Stefani on the appropriately retro-cool duet of Stevie Nicks and Don Henley's "Leather and Lace."
Barrett Baber, Team Blake
Baber and coach Shelton opted for a traditional take on Glen Campbell's "Rhinestone Cowboy," but went a little more modern with his solo of "Die a Happy Man" by Thomas Rhett. The Arkansas high school teacher chose "Silent Night" as his Christmas song.
CLICK: Who went home in last week's brutal cut?
"The Voice" winner will be crowned on Tuesday, Dec. 15 at 9 p.m. on NBC. As E! News revealed, the four singers' celebrity duets will be Roberts with Ricky Skaggs on "Country Boy," Baber with Wynonna Judd on "No One Else on Earth," Austin with Tori Kelly on "Hollow," and Smith with Usher on "Without You."
Copyright E! Online