Florida Gov. Ron DeSantis is officially making his much anticipated run for president, going from a virtually unknown congressional candidate to one of the main contenders for the Republican nomination in a little over a decade.
But who is the 44-year-old former youth baseball player turned Ivy Leaguer turned politician? Here's a look at DeSantis' story up to now:
DESANTIS' EARLY YEARS
Before he was running for office, Ron DeSantis was a kid running the bases in Dunedin, Florida.
Though he was born in Jacksonville in 1978, the future governor's family moved to Dunedin, just northwest of Tampa, when he was a child.
That's where DeSantis became a baseball standout. In 1991, when he was just 12 years old, DeSantis' team made it all the way to Williamsport, Pennsylvania, advancing to the quarterfinals of the Little League World Series.
He kept on swinging the bat into high school, where his performance on the field and in the classroom paved a pathway from Florida's Gulf Coast to the Ivy Leagues.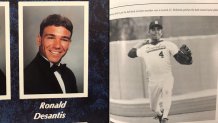 DeSantis attended Yale University, where he studied history, and was a four-year starter on the baseball team.
After a short stint teaching high school, he continued his education, earning a law degree at Harvard, which led to his first career, in the military.
DeSantis joined the navy in 2004, using his legal background to earn a commisision as a Judge Advocate General officer. He spent time at Guantanamo Bay in Cuba and a deployment to Iraq where he served as a legal advisor to the Navy Seals.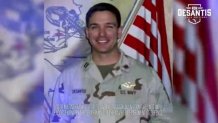 The year 2010 was a transitional one for the future governor. He left active military duty, entered the private sector, and married a former TV news reporter, current Florida First Lady Casey DeSantis. They had their wedding at Walt Disney World.
POLITICAL CAREER BEGINS
Two years later, DeSantis got back into public service, taking a swing at politics. He entered the U.S. House race for the 6th congressional district in northeast Florida, and won. He was re-elected in 2014, and again in 2016 - the same year he and his wife welcomed their first child. The couple now shares two daughters and a son.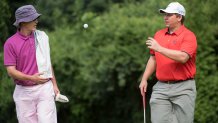 In 2018, with then Gov. Rick Scott's term coming to an end, DeSantis entered the Florida gubernatorial race.
DeSantis, a relatively unknown U.S. congressman at the time, wasn't expected to win the Republican primary, as he faced a prominent opponent in Adam Putnam.
But in December of that year, he earned a key endorsement from then President Donald Trump, who called him a "brilliant young leader."
DeSantis made national headlines during his campaign for governor as the race against Democratic opponent Andrew Gillum intensified and controversial statements put the national spotlight on the Sunshine State.
The election was one of the most closely watched races that year and it was close at the polls as well. DeSantis narrowly defeated Gillum by just .4%, a little more than 32,000 votes out of over 8 million cast. But it was enough for him to become Florida's 46th governor.
That win, and his alliance with Trump, began DeSantis' meteoric rise in popularity in Florida and among the GOP nationwide.
DESANTIS BECOMES NATIONAL FIGURE
DeSantis rose even further in 2020, when the COVID-19 pandemic began sweeping across the globe.
After two months of lockdowns, DeSantis decided he was going a different route, reopening Florida, advocating for schools to return to in-person learning and rejecting mandates on vaccines and wearing masks.
In 2022, DeSantis continued riding his wave of popularity, running for re-election, this time without the endorsement of Trump, now his biggest rival in the Republican party.
That didn't matter though. The result was a nearly 20-point win over Democratic challenger Charlie Crist, including wins in historically Democratic strongholds Miami-Dade and Palm Beach.
But since the election, his popularity has taken a little bit of a hit, due partially to an ongoing battle with Disney, which publically opposed the state's Parental Rights in Education law, which bans classroom instruction on sexual orientation and gender identity in early grades.
He also drew the ire of Democrats with a recent legislative session that concluded with him signing a law banning most abortions after six weeks, and signing another that bans state and federal funding for diversity, equity and inclusion programs at state colleges and universities.
The latest NBC News poll taken last month showed Trump with a 15-point lead over the governor for the 2024 Republican nomination.