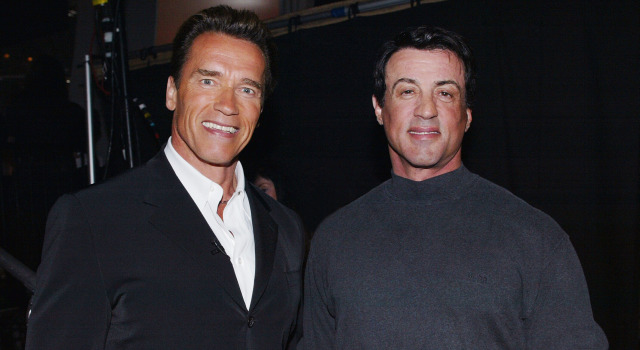 ABC's "This Week with George Stephanopoulos" sometimes breaks news, but never anything like this: California Gov. Arnold Schwarzenegger confirmed Sunday that he's set to appear in the next Sylvester Stallone popcorn flick.
Word of Rambo and the Terminator, together at last, would have been an action movie fan's dream come true – about 25 years ago.
The Governator told Stephanopoulos that he couldn't turn down Stallone, whom he praised as "a terrific director, writer, and great actor." (Click here to see the video.)
The 61-year-old Schwarzenegger will make a cameo in next year's "The Expendables," an action thriller about a band of mercenaries set on overthrowing a South American dictator. Stallone, 62, also will be joined by Dolph ("Rocky IV") Lundgren, and suddenly hot Mickey Rourke, who may be kicking himself now for signing on.
There have been movies where aging tough guys are dragged back into their element – John Wayne in "True Grit," and Clint Eastwood in his unforgettable mythology-busting "Unforgiven" -- and bring some perspective, introspection and even humor to the screen.
Stallone and Schwarzenegger, at least in the movies, were never much for introspection, though you can't say they lack a sense of humor – especially now.
The pairing, especially given Schwarzenegger's apparent short screen time, sounds like an exercise in Hollywood hype that's liable to end up a disappointment – or, at best, in a cheap laugh. Too bad they couldn't have pulled something like this together during their respective 1980s heydays as action heroes.
The cameo, though, could be a hint that Schwarzenegger is planning a more permanent return to the big screen – he wouldn't tell Stephanopoulos whether he has any political plans beyond the end of his term next year.
Meanwhile, he's battling to restore his approval ratings after using spending cuts and tax hikes last week to plug a $40 billion budget gap. That's popularity fight that not even a team of the Terminator, Rocky and Rambo could win.
Hester is founding director of the award-winning, multi-media NYCity News Service at the City University of New York Graduate School of Journalism. He is the former City Editor of the New York Daily News, where he started as a reporter in 1992.