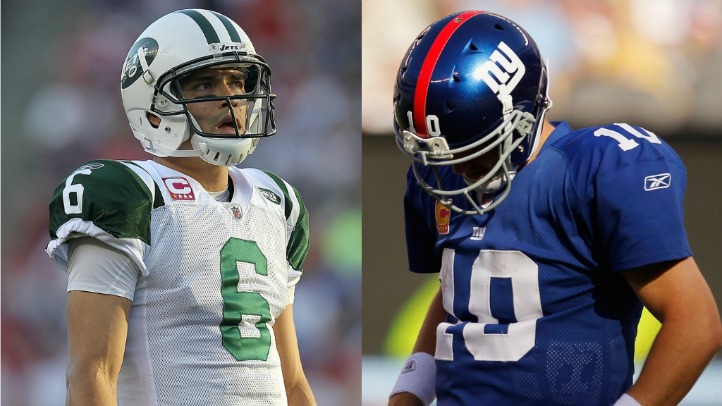 It was a weekend to make you suddenly very interested in ending the NBA lockout.
The return of the Knicks (or the Nets, if that's your thing) would be something to look forward to and something to have optimistic (or delusional, if that's your thing) thoughts about.

Alas, there appears to be no movement on that front, which means we're stuck with a pretty miserable current state of affairs in New York sports.
The Yankees went down meekly on Thursday and both football teams laid enormous eggs on Sunday. That should tell you that we're going to have to stretch for good things in this week's review of our football squads.
GOOD: The Giants proved that their pass rush remains a tremendous force even when Justin Tuck isn't able to answer the bell. Their six sacks kept the Giants alive long enough to blow the game in the fourth quarter, with Jason Pierre-Paul (2.5 sacks) looks like a player who could challenge Michael Strahan for the single-season sack record one day even without Brett Favre laying down to give him the record.
BAD: What in the world was Antrel Rolle thinking on the winning Seahawks touchdown? He claims he heard a whistle when Osi Umenyiora jumped offside, which might be reason for him to see an ear doctor because replays make it clear there wasn't one and every NFL player knows you play through on such defensive penalties which means Rolle's just making an excuse for blowing his assignment.
UGLY: The fact that the Jets put out a statement hours before their loss to the Patriots denying Santonio Holmes, Plaxico Burress and Derrick Mason complained to Rex Ryan about offensive coordinator Brian Schottenheimer's schemes shows that things aren't well behind the scenes with the Jets. The fact that the players are dead right shows that things could get worse before they get better.
GOOD: Joe McKnight had another huge kickoff return to set up a touchdown that kept the Jets in striking distance of New England. Think maybe a moribund offense could have some use for him?
BAD: The complete lack of a running game for the Giants puts unhealthy amounts of pressure on Eli Manning. He threw for 420 yards and three touchdowns on Sunday, but he also turned the ball over four times because he has to do way too much to give the team any chance to win.
UGLY: We already knew they couldn't run block, but the fact that the Giants' revamped offensive line -- the Will Beatty at left tackle experiment isn't going well -- can't pass block either makes them a totally useless group. Chris Snee had to go to the hospital with a concussion, raising the possibility that the group will be even worse next week.
GOOD, BAD and UGLY: Victor Cruz has become a player you can't take your eyes off in a very short period of time, mostly because you're not sure if it is because he'll do something beautiful or if he's going to completely implode. He did both yesterday with a dazzling touchdown, a brutal fumble and a stumbling misplay that led to the winning Seahawks touchdown.
BAD: The Jets secondary played fairly well against the Patriots on Sunday, but their penchant for picking up penalties appears to be a problem that's building on itself. They get flagged constantly for various types of illegal contact, a weekely issue that isn't helped by officials looking extra closely thanks to penalties in past weeks.
UGLY: We covered the final New England drive in detail on Sunday night, but it needs to be mentioned again and again so that no one with the Jets tries to pretend it didn't happen. The Patriots, a passing team that runs as an afterthought, stuffed the ball down the throat of the Jets defense, a self-professed group of tough guys, until there was no time left on the clock and the game was firmly in their hands.
GOOD: The Jets actually showed some pass rush on Sunday with Jamal Westerman, a Ryan training camp pet, coming up with two sacks. We'll see if that sticks around, because the Jets desperately need it.
BAD: Let's put an end to people saying the Giants play down to the level of their opponents until the Giants actually prove they are better than anyone, okay? The Giants didn't play down to the level of the Seahawks, they got beaten on the field and attempts to argue otherwise ring awfully hollow.
UGLY: The gap between the Jets and Patriots didn't exist after last year's playoffs. It's back to being pretty wide right now, a sign of how quickly and totally the Jets have fallen apart in the first five weeks of the season.
Josh Alper is a writer living in New York City. You can follow him on Twitter and he is also a contributor to Pro Football Talk.
Copyright FREEL - NBC Local Media