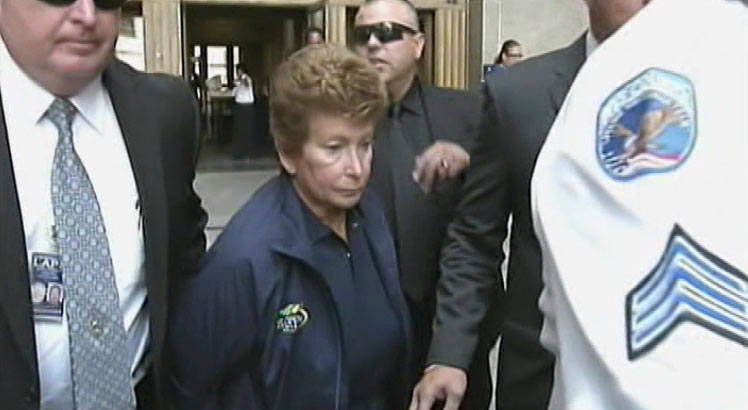 A tennis referee arrested in New York on suspicion of bludgeoning her 80-year-old husband to death with a coffee mug arrived in Los Angeles Thursday night to face murder charges, the Los Angeles District Attorney's office said.
Lois Ann Goodman, 70, landed at LAX shortly before 8 p.m. and will be booked at LAPD Topanga Station in Canoga Park before heading to LAPD Van Nuys Station, where she will be held, officials said.
She is set to be arraigned Monday in Van Nuys Court House, said Jane Robison with the DA's office.
Goodman was arrested on Tuesday in New York, where she was set to work as a line judge at the U.S. Open.
Leaving from a Manhattan court house Thursday afternoon, Goodman was silent as she was escorted by LAPD detectives. She wore her navy-blue uniform for the U.S. Open, seemingly the same outfit she wore at her first court appearance earlier in the week.
Lawyer Guy Oksenhendler says the high-ranking tennis umpire is "anxious to defend herself" in California. Earlier in the week, Goodman waived her right to an extradition hearing, saying she wanted to get back to LA as soon as possible to fight the charges.
Goodman is alleged to have bludgeoned her husband, Alan Goodman, to death on April 17 at the couple's townhouse in a gated community in the 20000 block of Oxnard Street in Woodland Hills.
Police say pieces of a mug were found in the man's scalp.
The death was originally ruled suspicious by police, but investigators could not determine if foul play was involved, according to the Los Angeles Police Department.
"Her story was that she came home, she found her husband dead in their bed. There was a lot of blood at the location," LAPD Detective Dave Storaker told NBC4. "She surmised that he must have had a heart attack and fallen down the stairs."
Alan Goodman's death was ruled a homicide on Aug. 2, and his wife was the "prime suspect," an LAPD press release stated. LAPD obtained a murder warrant last week but needed help from the New York Police Department to serve it once detectives realized Goodman was at the U.S. Open.
If convicted, Goodman faces life in prison.
The Associated Press contributed to this article.
Follow NBCLA for the latest LA news, events and entertainment: iPhone/iPad App | Facebook | Twitter | Google+ | Instagram | RSS | Text Alerts | Email Alerts
Copyright AP - Associated Press