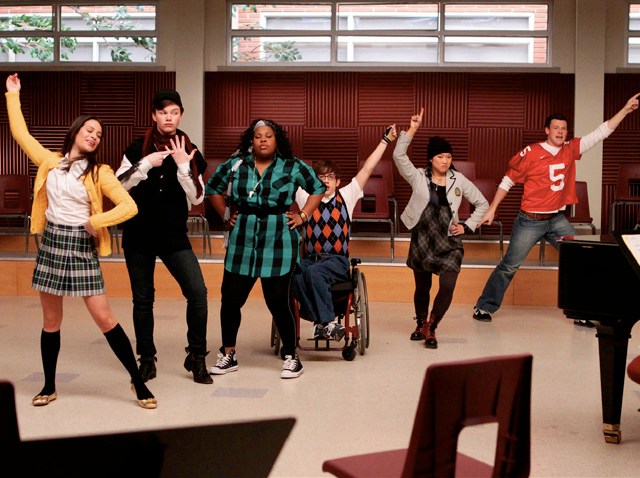 This debut season of "Glee" hasn't been about singing as much as it's been about dancing around the truth.

We've seen a fake pregnancy. We've seen a real pregnancy with the wrong teen pegged as the father. We've seen a ruthless cheerleading coach who has built a pyramid of lies trying to topple the high school glee club that's a refuge for misfits.

But the curtain has been rising slowly on the deceit festering at McKinley High, setting the stage for Wednesday's finale, which promises to expose more than just young talent.

Part of the fun of watching Fox's "Glee" unfold over the inaugural dozen episodes has been trying to figure out what the show is supposed to be.

Is it a campy soap opera? Is it a musical? (After all, sometimes characters break out into song, though most of the numbers are woven into glee club practices and performances.) Is it a drama?

It's a bit of all that, not so neatly wrapped in a "High School Musical" meets "Revenge of the Nerds" package, offering frequent twists in tone.

The show's strength rest in moments as much as music: Kurt coming out of the closet to his supportive auto-mechanic dad. Perhaps-not-so-evil cheerleading coach Sue Sylvester (the brilliant Jane Lynch, in the standout role of the TV season) visiting her sister, who has Down syndrome. Former cheerleader and Celibacy Club leader Quinn's stuffy parents learning of her pregnancy over dinner – via a rendition of "Having My Baby" crooned by Finn, the poor sap tricked into believing he's the dad.

The scenes, a mix of the sensitive and surreal, couldn't match, for raw emotion, glee club teacher Will Schuester's uncharacteristic explosion of anger in the latest episode at discovering his manipulative wife was faking her pregnancy – and hoped to fool him by secretly adopting Quinn's baby.

The season comes to a crescendo this Wednesday amid a swirl of questions. Will Finn learn that his alleged best friend Puck is the real father of Quinn's baby? Will diva-in-training Rachel connect with Finn? Will Kurt reveal his crush on Finn? Will Schuester's not-so-secret mutual crush, OCD-plagued guidance counselor Emma, really skip her wedding to take the glee club to the big competition after Sylvester got him bounced on a technicality? Will Sylvester's sabotage scheme – leaking the glee club's set list to competitors – work?

Schuester, the center of the show, is trying to relive his own glee club glory days through his students, only to be done in by adults acting like kids.

He's learning the hard way what most of us already know: Life is a lot like high school – but it's not near as much fun.
Hester is founding director of the award-winning, multi-media NYCity News Service at the City University of New York Graduate School of Journalism. He is the former City Editor of the New York Daily News, where he started as a reporter in 1992. Follow him on Twitter.
Copyright FREEL - NBC Local Media