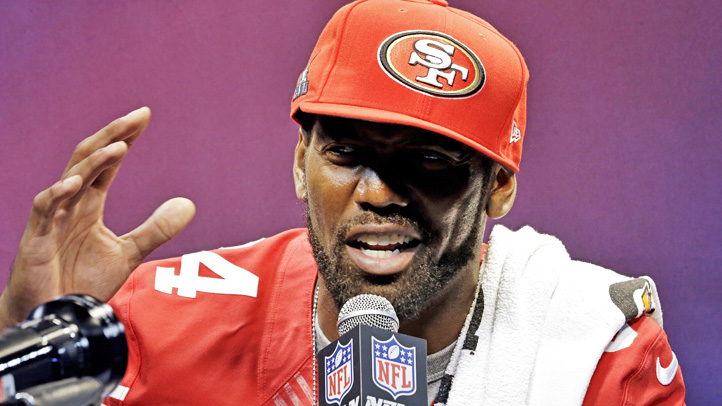 The intense proximity of journalists and athletes at Super Bowl Media Day usually causes one or two moments noteworthy for their ridiculousness, despite most players endeavoring to maintain a low profile. Leave it to Niners wide receiver Randy Moss to make things interesting.

"I do think I'm the greatest receiver," declared Moss. "This year has been a down year for me statistically, the year before I retired was a down year and then in Oakland was a down year. So, I don't really live on numbers, I really live on impact and what you're able to do out on that field. So I really do think that I'm the greatest receiver ever to play this game."

As heads around the world shook in disbelief, NFL Network analyst Rich Eisen said what we all were thinking.

"And Jerry Rice just threw something at his television set," joked Eisen, who went on to express his gratitude to Moss for offering something other than the standard boilerplate so many athletes regurgitate.

But sometimes boilerplate is exactly what a team needs, and that's what deposed Niners starting QB Alex Smith offered up on Tuesday. Media Day can be a grind under the best of circumstances, so imagine the dread felt by Smith, who lost his starting job in November, after sustaining a concussion during a 24-24 tie with the St. Louis Rams.

In less than three months, Smith has gone from leading the offense of a first-place team to not even having a podium at Media Day. But Smith took it like a man, standing there amid a rotating throng of journalists, addressing the biggest loss of his career.

"It's tough, for sure. I'm not gonna lie to you," Smith said. "It hasn't been the easiest thing, it's been frustrating, disappointing, for sure. I really felt like I was playing my best football right before the injury, so that's been tough. But at the same time, you deal with it, you move on… Do I still deal with it? For sure. But this is a team game. I love the locker room, I love the group of guys we have, and that's bigger than me. I certainly wasn't gonna put myself before any of that."
Colin Kaepernick, the man who replaced Smith as the starting QB, made every effort to be equally gracious about the awkward situation.
"Alex is a great guy, he's been phenomenal this whole time," Kaepernick said when asked about his relationship with his predecessor. "He's done everything he can to help, and he continues to help me."
Kaepernick hopes to lead San Francisco to their sixth Super Bowl championship, which would tie them with the Steelers for most all time. Naturally, he turned to Steve Young, who in 1995 led SF to the last of those titles, for some advice.
"Steve Young gave me two words that he thought about when he thought about the Super Bowl: 'humility' and 'fierce.' Those are two things that resonated with me.
Nobody drew a bigger crowd at Media Day than Ravens linebacker Ray Lewis, one of the NFL's biggest, loudest, most controversial personalities.
Among the first question thrown his way was about the recent "Saturday Night Live" sketch spoofing his emotional outburst during the National Anthem ahead of the AFC Championship game against the Patriots.
"I'm a big comedian myself, so I love comedy," laughed Lewis. "I looked at it, I enjoyed it, like most fans enjoyed it."
On a more serious note, Lewis is mentioned in a Sports Illustrated story that went online shortly before Lewis faced the media, in which it is claimed that the future Hall-of-Famer had used a banned substance, deer antler velvet extract, to come back from injury. Lewis brushed aside questions about the report.
"Two years ago it was the same report, I wouldn't give that report or him any of my press," said Lewis. "He's not worthy of that. Next question."
Lewis offered a more formal denial via the Ravens.
"Ray has been randomly tested for banned substances and has never failed a test. We have never been notified of a failed test. He has never been notified of a failed test," Kevin Byrne, vice president of communications for the Ravens, told ESPN. "He denied using the substance discussed in the article and we believe him."
With five more days until the big game, you can be sure we haven't heard the last of deer antler velvet extract.