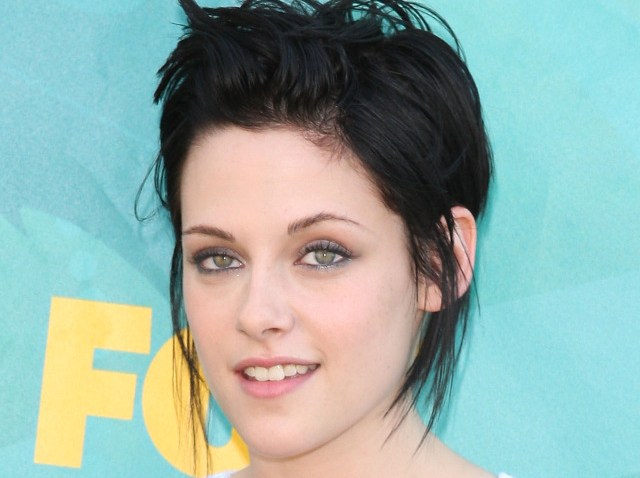 Kristen Stewart daringly chopped off her locks last year to play rocker Joan Jett in the upcoming movie, "The Runaways," and she's equally fearless when it comes to her wardrobe. Whether wearing flirty dresses with retro sneakers, or donning couture gowns on the runway, Kristen isn't afraid to show her personality (and her legs!). From punk to Prada, her rebellious style won her the title of Access Hollywood's latest Style Star.

This down-to-earth young actress, who became a household name from playing the lead role of Bella in "The Twilight Saga," is not obsessed with Hollywood glamour. Her daily look consists of fitted skinny jeans, high top sneakers and knotted t-shirts.

"I go outside, and I'm wearing a funky T-shirt and my hair is dirty, and people say, 'What's wrong with her? She needs to invest in a hairbrush,'" the 19-year-old actress told Allure Magazine in its November issue. "I'm like, 'Don't you get it? I'm not that girl! I never was that girl. It's not like I was really clean-cut last year.'"

Kristen often incorporates her red carpet style with her casual everyday look. She'll often be seen wearing youthful short dresses with colorful sneakers, like she did for last year's MTV Movie Awards.

"I'm kind of obsessed with sneakers. I go on eBay all the time to find them. Old sneakers from the, like, 90's that I saw my brothers wearing," she told Nylon Magazine.

Yet despite her love for sneakers, Kristen also pairs her young and flirty dresses with fierce heels. On this past Sunday's BAFTA (British Academy of Film and Television Arts) Awards red carpet, Kristen stepped out in a white Chanel strapless dress with dramatic Roger Vivier high-heeled sandals.

Kristen's career choices are as varied as her style. Just last week, she turned heads in a short black Azzaro "Graffiti" dress and Bally "Stann" black satin platform pumps for the premiere of her latest film, "The Yellow Handkerchief," in which she portrays a troubled teen.

We look forward to seeing what she wears to the Academy Awards on March 7, when she will be a presenter alongside fellow "Twilight Saga" star Taylor Lautner.


Related Content from AccessHollywood.com:
VIEW THE PHOTOS: New Faces In Twilight's 'Eclipse' Cast
PLAY IT NOW: Kristen Stewart At 'The Yellow Handkerchief' Premiere, Los Angeles
PLAY IT NOW: 2010 Sundance Film Festival: Joan Jett - Kristen & Dakota's 'Runaways' Portrayal Was 'Great'!
MORE ACCESS ON THESE TOPICS: Style Star - Kristen Stewart - The Twilight Saga - Style - Red Carpet
Copyright NBCAH - Access Hollywood