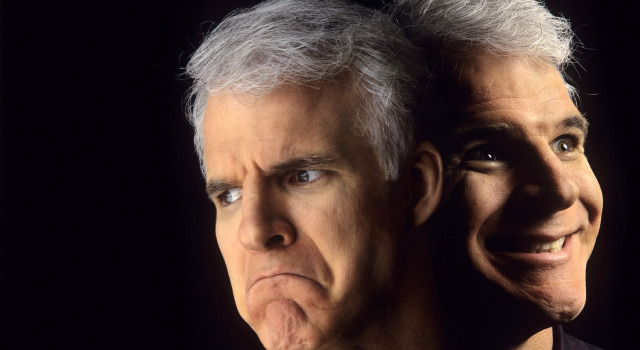 Not even Steve Martin, who built his comedy career on the absurd, is laughing about this: a high school in Oregon scrapped plans for a production of his play "Picasso at the Lapin Agile," because of its "adult" content.
Martin stepped in and offered to fund an off-campus version of the play, a meditation on the creative process that imagines a meeting of Pablo Picasso and Albert Einstein in Paris shortly before each changed the world in his own way.
"I predict that the experience [of teenagers putting on and seeing the show] will not be damaging, but meaningful," Martin wrote in a letter to The Observer, a newspaper that serves La Grande, Ore.
The controversy at La Grande High School follows a fierce debate over planned high school productions of the long-running Broadway hit "Rent" across the country. "Rent: School Edition" excises some of the more explicit portions of the 1980s, East Village-set retelling of "La Boehme," but doesn't back away from its depiction of AIDS, homosexuality and drug use.
In recent years plans for high school productions of "The Vagina Monologues" have spurred a backlash -- and some parents have complained about mounting even a tame musical like "Grease," objecting to smoking, drinking and – gasp! – kissing by the teenaged Eisenhower-era characters.
The complaints about Martin's show center on the setting – it's a bar – and the bawdy, sexist language spouted by his imagining of Picasso.
"Pablo Picasso, as a historical figure, does not come gift-wrapped for the sensitive," Martin noted in his letter to The Observer. "He lived as he painted, fully sexual and fully daring, and in the play he is chastised by a sage bartendress for his cavalier behavior toward women."
In his diplomatic letter, Martin tries to see the complaints through the eyes of the 137 people who reportedly signed a petition demanding the production be jettisoned.
"Because of the controversy, I recently reread the play, and, frankly, I could understand how some parents might object to certain lines if they were to be delivered by a 16- or 17-year-old," he wrote. "Yet I do believe that the spirit of the play and its endorsement of the arts and sciences are appropriate for young eyes and minds."
Young eyes and minds aren't the problem – it's the small minds of some adults.
The stage long has given high school students, on the verge of adulthood, a safe place to work out serious issues that face them or soon will, providing a stepping off point for discussion. Reality isn't going to go disappear if drama clubs stick solely to light, escapist fare like "You're a Good Man, Charlie Brown" (a perfectly fun show) or "High School Musical" (ugh).
The only lesson students are learning from overzealous, ban-happy school administrators is the bane of censorship.
Martin's 1993 show is about the power of creativity and imagination, using the mind to break barriers and change the world. That's not exactly a bad message to be sending, especially at a time when we desperately need to encourage innovative thinking.
For a wild and crazy guy, Martin -- in his play, in his letter and in his actions -- is making a lot of sense. At least the kids seem to be listening.
Hester is founding director of the award-winning, multi-media NYCity News Service at the City University of New York Graduate School of Journalism. He is the former City Editor of the New York Daily News, where he started as a reporter in 1992.
Copyright FREEL - NBC Local Media