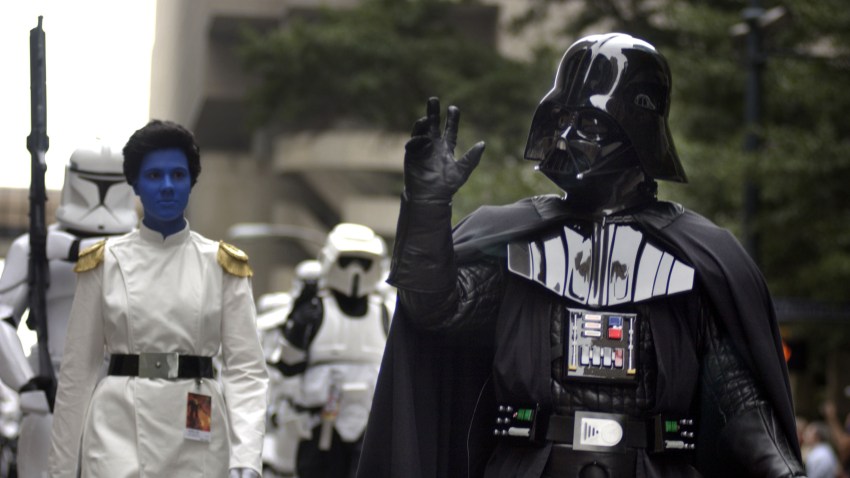 In last year's underrated "Be Kind Rewind," Jack Black plays a loser who accidentally erases a video store's stock of tapes – and ends up, with the help of a ragtag band of pals, replacing the flicks with cheapo, homemade versions of everything from "Robocop" to "Ghostbusters."

The rentals, of course, become a big hit in the characters' downtrodden neighborhood. The high-concept comedy directed by Michel Gondry, and co-starring Mos Def, turns from farce to a touching meditation on making art and the power of movies to bring people together in an era where it's too easy to watch alone.

The communal spirit of movies is playing out on the Internet, where it can be seen in the trailer for "Star Wars Uncut" – an in-progress remake of the series' first installment, patched together with 15-second scenes filmed by fans around the world.

There are kiddie Jedis. Plastic light sabers. An apparently cardboard R2D2. A hand-drawn Obi Wan Kenobi.

The organizer of the project, Casey Pugh, divided George Lucas' classic 1977 space adventure into hundreds of scenes and asked fans to claim one to redo. More than 400 scenes, representing about 75 percent of the film, have been completed (you'll find some sample scenes here), and scores more are in the works.

The trailer offers some laughs as well as a tantalizing taste of what's to come (barring lawsuits). The undertaking is shaping up as a testament to the do-it-yourself spirit – aided by what's become common technology and brought together via the Internet.

The "Star Wars" reboot is refreshing amid a bombardment of big-budget blockbusters. Perhaps it's appropriate the trailer is attracting Web attention when a low-budget, out-of-nowhere thriller like "Paranormal Activity" – made for a reported $15,000 and buoyed by Internet buzz – is the nation's No. 1 movie.

Sure, it's a good gimmick – the ultimate geek movie remade by geeks. But the "Star Wars" project says a lot about our times, as well as events that transpired "a long time ago, in galaxy far, far away."

Movie fans no longer have to be passive viewers – in a YouTube world, we all can be participants, for better or worse, in the creative process. Now that's a force to be reckoned with…
Star Wars: Uncut Trailer from Casey Pugh on Vimeo.
Hester is founding director of the award-winning, multi-media NYCity News Service at the City University of New York Graduate School of Journalism. He is the former City Editor of the New York Daily News, where he started as a reporter in 1992. Follow him on Twitter.
Copyright FREEL - NBC Local Media