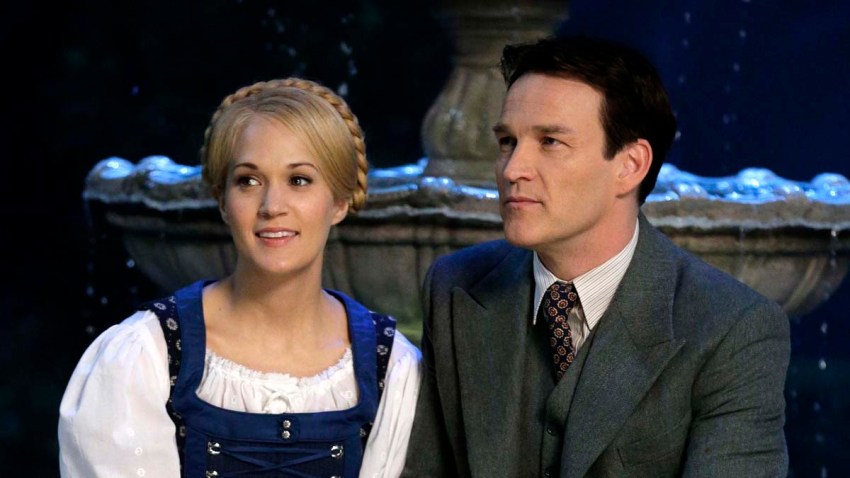 During last week's behind-the-scenes special touting Thursday's live TV version of "The Sound of Music," Carrie Underwood, who knows a thing or two about high-pressure public auditions, marveled at the poised little Von Trapp-wannabes as they were put through their paces.
"I didn't have to do it when I was seven," she noted.
Underwood, who became the fourth "American Idol" winner at age 22, faces her biggest audition of sorts eight years later as she leads a musical high-wire act through hills that are alive – on live TV. Thursday's NBC broadcast will mark the first "Sound of Music" production where the main tension won't be whether the Von Trapps escape Austria, but whether what's being billed as television's first live musical in more than a half-century comes off without a glitch.
Give Underwood and the production team points for nerve, and not just for going net-free. At 30, Underwood is tackling an iconic role sealed in celluloid by Julie Andrews, who was the same age when the movie version of "The Sound of Music" debuted in 1965. While the film is a durable family favorite, it's unclear how the great Rogers and Hammerstein score will play to the young ears of Underwood's country fan base.
The spectacle also is shaping up as a test in the on-demand age of whether TV is a viable live mass medium beyond news, sports and some comedy and awards shows. Still, there's a back-to-the-future aspect to the "Sound of Music" experiment: Much of TV's so-called Golden Age of the 1950s featured live shows – and more than a few live plays, though mostly dramas, best remembered through landmarks like Paddy Chayefsky "Marty" (1953) and Rod Serling's "Requiem for a Heavyweight" (1956).
Musicals, thanks to far more complicated logistics, proved more rare, if memorable. Mary Martin made her mark in the live 1955 TV version of "Peter Pan," and Andrews became a star in America in 1957, playing the lead in a Rogers and Hammerstein made-for-television effort, "Cinderella."
Underwood's attempt to transform into a musical stage force, unlike Andrews' live legend-making turn, will be subject to real-time tweeting, with any possible missteps instant candidates for viral videos. The pressure was clear in last week's special, a kind of Broadway equivalent of the HBO boxing documentaries leading up to the big fight, as the cast and creative team acknowledged their nervousness with humor.
Part of the balancing act facing the producers is using the anything-can-happen aspect to build anticipation – and ratings – while not letting the hype overwhelm the show. Aside from avoiding technical hiccups and cast meltdowns, prospects for success will come down to making the audience forget they're watching a live performance by quickly pulling them into the Von Trapp story. It will help that the first sounds of music will come from the superb voice of Audra McDonald, who leads a supporting cast that includes Laura Benanti, Christian Borle and Stephen Moyer – all familiar TV faces with musical theater chops.
Last week's special showed that Underwood, who hasn't acted before, has the presence and the pipes to play Maria von Trapp. But whether that will be enough to get her over ev'ry mountain during Thursday's three-hour broadcast only adds to the drama.
There's no preview, of course. But check out a clip from last week's special below as we wait to see whether Underwood passes her latest live audition:
Hester is founding director of the award-winning, multi-media NYCity News Service at the City University of New York Graduate School of Journalism. He is also the author of "Raising a Beatle Baby: How John, Paul, George and Ringo Helped us Come Together as a Family." Follow him on Twitter.
Copyright FREEL - NBC Local Media