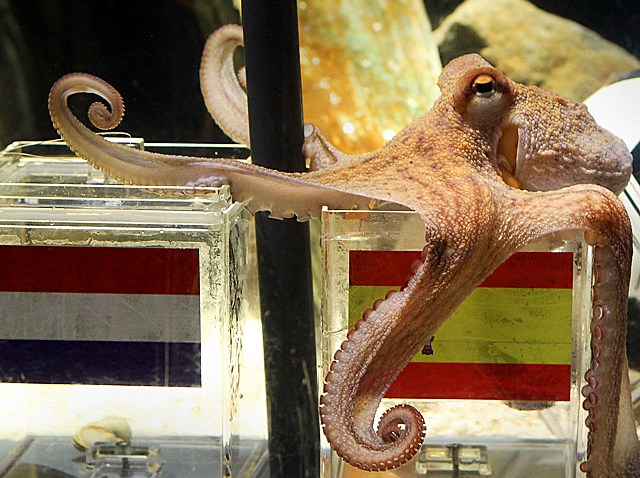 The soccer world is mourning the loss of one of its uncanniest prognosticators ever, Paul the Octopus.
The eight-armed oracle became famous during the World Cup this summer after correctly predicting the results of Germany's seven soccer matches and calling Spain's tournament victory. The octopus was found dead at his aquarium home in Oberhausen at the age of two.
English-born Paul made headlines across the globe after he correctly forecast how Germany would fare in seven matches, before his psychic powers were tested again for the final.
Staff at the Oberhausen Sea Life Center in western Germany said in a statement they were "devastated" to learn of Paul's death when they returned to work on Tuesday.
"He appears to have passed away peacefully during the night, of natural causes, and we are consoled by the knowledge that he enjoyed a good life," said the center's manager Stefan Porwoll.
Paul's predictions were interpreted through his food choices. Before matches, two containers of food were placed in the eight-legged creature's tank, each one bearing the flag of one of the teams about to compete for their chance to become world champions. The container Paul picked first was seen as his pick.
Even though he's dead, Paul may have one last prediction up one of his eight sleeves. A Russian newspaper said in July it had got Paul to predict who would be Russia's next president -- but that the results would be kept secret until the election year of 2012.
Selected Reading: NBC Sports, Bloomberg, Telegraph.