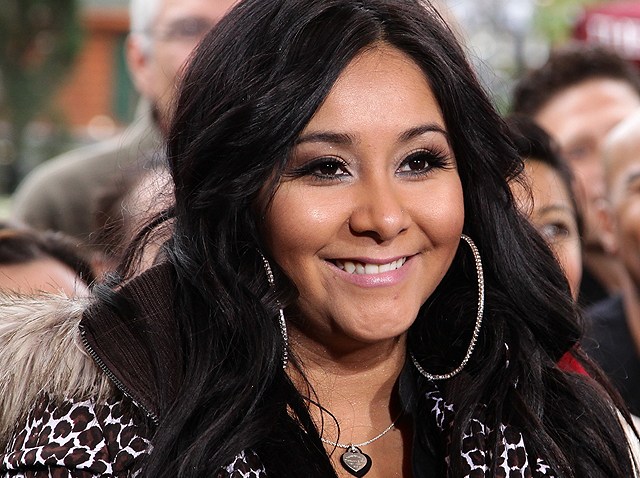 "Saturday Night Live's" Fred Armisen isn't the only one making fun of "The View's" Joy Behar – "Jersey Shore" stars Nicole "Snooki" Polizzi and Jenni " JWOWW " Farley have lampooned the talk show host, as well.
The reality stars – whose MTV series returned last week with record ratings – posted a video on YouTube, with Snooki imitating Joy during "The Nancy and Flow Show."
VIEW THE PHOTOS: We Did It All For The 'Snooki'! Hot Shots Of The 'Jersey Shore' Star!
"This girl is disgusting. I am Joy and I'm on the freakin' 'View,' and I own everything in the world and I rule everything, and that's all. And when I say that Snooki is a wh***, she's a wh***," Snooki said, posing as Joy.
"Who would want to read a book about going to the Shore and having a good time?" JWOWW said, referencing Snooki's new book, "A Shore Thing."
VIEW THE PHOTOS: Hollywood's Infamous Celeb Feuds
"These 'Jersey Shore' kids are disgusting. You know why I don't like them? Because I'm f****** Joy and these people ruined my life in high school. That's why I love to talk s*** about them on my little talk show," Snooki's impression continued.
"Instead of worrying about the Great Depression, they worried about making my life a living hell," JWOWW added.
"Get real Snooki, go sleep in a garbage can!" Snooki said in another part of the lengthy video, where the two reality stars break character multiple times and begin to laugh. "I actually admire her even though I make fun of her… I'm a hater, but deep inside I'm f****** obsessed with her. I'm obsessed with all of 'Jersey Shore'"
VIEW THE PHOTOS: The Situation's Abs In Action
See Snooki and JWOWW's video, HERE!
Copyright 2011 by NBC Universal, Inc. All rights reserved.
This material may not be published, broadcast, rewritten or redistributed.
VIEW THE PHOTOS: GTL For Everyone! Stars Of MTV's 'Jersey Shore'
Related Content from AccessHollywood.com:
PLAY IT NOW: Access Hollywood Live, Snooki Part 2: 'I'm Over The Boys' Of 'Jersey Shore'
PLAY IT NOW: Preview: Season 2 Of MTV's 'Jersey Shore' Continues With 13 New Episodes
More from Access: [ 'Jersey Shore' MTV Joy Behar ]
Copyright NBCAH - Access Hollywood