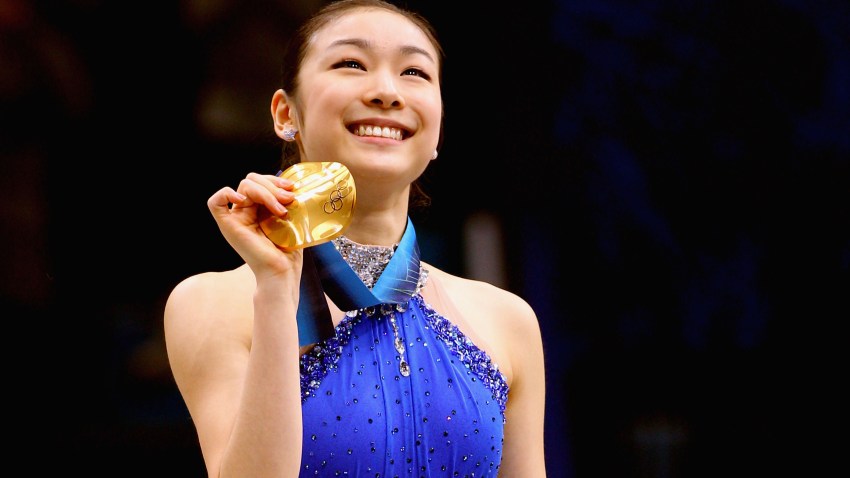 Long live the queen.
South Korean figure skater Kim Yu-na dominated the competition to win Olympic gold on Thursday, scoring a record-breaking 228.56, more than 18 points higher than her previous world record.
Kim, nicknamed "Queen Yu-na" back home, fulfilled expectations as the reigning favorite going into the competition -- and then some. The 19-year-old champion became the first South Korean to win a medal at a Winter Olympics in a sport other than speedskating.
U.S. & World
"I still can't believe it," Kim said. "I waited a long time for the Olympics, and it feels like a large weight has been lifted off."
After her flawless performance set to Gershwin's "Concerto in F," sweepers were needed – twice – to clear the ice of stuffed toys and flowers. Kim became teary eyed while soaking up the moment.
Next up was Kim's rival, Mao Asada, of Japan. Asada tried her best to challenge for top prize -- landing two triple axels, one in combination with a double toe loop -- but in the end, it wasn't even close. She finished 23 points behind Kim to take silver.
Joannie Rochette, whose mother died suddenly four days ago, delivered another brave performance to earn the bronze, becoming Canada's first women's medalist in the games since Calgary in 1988.
American Mirai Nagasu, 16, also ended strong, rocketing to fourth place from sixth in her first-ever Olympics. U.S. champion Rachael Flatt dropped to seventh.
Still, only on one other occasion since 1952 has the U.S. failed to medal in ladies' figure skating. The other time was 1964, three years after a plane crash wiped out the entire U.S. team on its way to the world championships.
Despite falling short in ice skating on Thursday, Team U.S.A. picked up medals on the slopes and in women's ice hockey.
American skier Bill Demong won gold in the Nordic Combined individual while teammate Johnny Spillane took the silver -- his third of the Vancouver Games.
In men's aerials, America's Jeret "Speedy" Peterson won silver Thursday night on the strength of his patented "Hurricane" jump. Alexei Grishin of Belarus took the gold after landing two clean jumps while China's Liu Zhongqing took bronze.
In a disappointment for the U.S., the women's hockey team fell to a strong Canadian squad after being unable to climb out of a 2-0 hole, and collected the silver medal for their efforts.Canada, bolstered by two first-period goals from Marie-Philip Poulin-Nadeau, won gold for their third consecutive Olympic Games. Finland took the bronze medal after beating Sweden 3-2 in overtime.
The Canadian women celebrated their win by emerging from their locker room about a half hour after the game ended to party on the ice – drinking bottles of champagne and beer and smoking cigars, The Associated Press reported.
Informed of the antics, the IOC said they would investigate.
"I don't think it's a good promotion of sport values," Gilbert Felli, the IOC's executive director of the Olympic Games said.
Also on Thursday, Viktoria Rebensburg of Germany won the women's giant slalom, which concluded after fog and wet conditions had forced the second of two runs to be postponed. American star Lindsey Vonn crashed during her first run on Wednesday and suffered a broken right pinkie finger, but that won't keep her out of Friday's slalom -- the final skiing event of the 2010 Olympics. Her teammate Julia Mancuso, who had to stop her run in the wake of Vonn's fall and was forced to start again, had the third fastest run in Thursday heat of the giant slalom but couldn't overcome Wednesday's disappointment and finished eighth overall.
"I felt I was able to put down a really good second run today," Mancuso said. "It just wasn't enough. ... I was pretty close, but I guess I'll wait for another four years." She said she will skip Friday's slalom, leaving her with two silver medals at these Games.
After 14 days of competition, the Americans have earned 32 medals, leading Germany by six in the standings. Both nations are tied in golds, at eight apiece.
Copyright AP - Associated Press