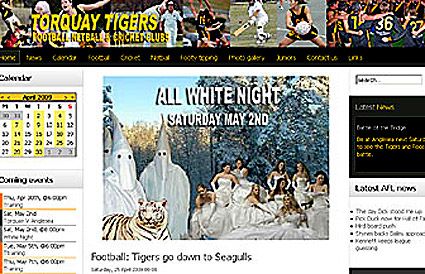 Some free advice for all our Internet friends out there. Things are funny on the Internet. What's not funny, or pertinent, or in any way a good idea unless you really want to show how intellectually bereft you are, is to use your online freedom to make references to Hitler, the KKK, or topics of that ilk. If you wouldn't bring it up in normal conversation, keep it off the Internet.

Some form of this very sage, very handsomely delivered advice (why thank you, that's so kind of you) could be well put to use by the Torquay Tigers, an Australian rugby team with an interest in promoting a standard "white-out." For the uninitiated, a white-out is a promotion that encourages fans to wear all white to stadium. 30,000 people in all white looks really cool, and whatever it takes to get people in the door, right?

Except one thing: Using a photo of the KKK on your promotional web site. Bad, bad, really bad idea. (A screencap of the image is above right.)

The good news for the Tigers is the photo at right has been taken down and replaced by now. The team has issued an apology. So instead of intentional racism, we can chalk it up to carelessness at best and merely casual racism at worst, which, for Australia? Eh. It could be worse.

Eamonn Brennan is a Chicago-based writer, editor and blogger who can't wait until the Australians catch wind of that last bit. Just kidding, mates! You can also read him at Yahoo! Sports, Mouthpiece Sports Blog, and Inside The Hall, or at his personal site, eamonnbrennan.com. Follow him on Twitter.

Copyright FREEL - NBC Local Media