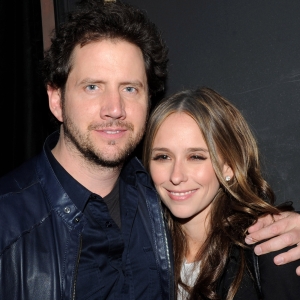 Your Daily Dispatch of Celebrity Shenanigans

J.Love & Jamie's Cozy Night Out: Jennifer Love Hewitt and Jamie Kennedy continue their whirlwind romance. People spotted the new couple this week at STK in West Hollywood. "The pair seemed so happy to be together and were really cozy at their table," an onlooker told the mag. "They couldn't seem to keep their eyes off of each other." We're thinking they were practicing their silent communication skills for charades…(keep reading you'll understand why!)

VIEW THE PHOTOS: The Latest Star Sightings
The Games Jamie & J.Love Play: One might think Jennifer and Jamie would spend their nights out at a hot Hollywood club – but according to Jamie, they like to spend their nights gathered around a bowl of folded pieces of paper. "I go over to her mom's house to play charades," Jamie told E! Online's Marc Malkin told at the LG Rumor2 party on Tuesday. "I'm dead serious. It's really true." Charades – the new black?

Lesbian Storyline Axed From 'Ugly Betty': ABC's "Ugly Betty" might be one of the gay-friendlyest TV shows on the air – but apparently not when it comes to lesbian storylines. According to The New York Daily News' Gatecrasher, a planned Sapphic-centric story about a relationship between Judith Light and Christine Baranski has been cut. "[ABC] put the kibosh on it," star Vanessa Williams told Gatecrasher. Series executive producer Silvio Horta added, "We thought about it, but ultimately decided to go in a direction that would set up more stories for next season." Well, there's always reruns of "The L Word" and "Xena: Warrior Princess" on DVD!

VIEW THE PHOTOS: Hollywood's Lasting Relationships
Evan Rachel Wants Dakota To Play Her: Evan Rachel Wood knows exactly who should play her in a biopic. According to Gatecrasher, "The Wrestler" star was heard telling people at the W San Francisco that Dakota Fanning would make the perfect Evan Rachel. Thus begging the question… why do we need an Evan Rachel Wood biopic? Sorry, but we'd rather see a Dakota Fanning biopic!
Related Content from AccessHollywood.com:
VIEW THE PHOTOS: Surprising Former Couples
PLAY IT NOW: 'Whatever Works,' Tribeca Premiere (April 22, 2009)
PLAY IT NOW: Jamie Kennedy & Jennifer Love Hewitt On The Town

MORE ACCESS ON THESE TOPICS: Roll Call - Jennifer Love Hewitt - ABC - Ugly Betty - News

Copyright NBCAH - Access Hollywood