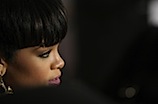 Rihanna's father, Ronald Fenty, has spoken out about the alleged attack on his daughter by boyfriend Chris Brown last weekend.

"You think you know somebody, but you really don't," he told People.

VIEW THE PHOTOS: Rihanna: Music's Style Superstar

Brown allegedly bit and hit the "Disturbia" singer last Saturday night, hours after the two were spotted together at a pre-Grammy party honoring Clive Davis in Beverly Hills.

"There is some bruising," Fenty said of Rihanna's current status. He reportedly saw his daughter in Barbados on Friday.

VIEW THE PHOTOS: 2009 Clive Davis Pre-Grammy Party

"She will be alright," he added. "At some point, she will speak out. I hope she will stand up for women all over the world."

While he didn't shed light on what happened that night, the events seemed to come as a surprise to Fenty.

"They seemed pretty happy," he said. "I don't know what went wrong."

VIEW THE PHOTOS: Chris Brown

And as for the future of Rihanna's relationship with Brown, he has one piece of fatherly advice.

"If it were me, I'd move on," he said.

Related Content from AccessHollywood.com:
PLAY IT NOW: Stars React To Chris Brown & Rihanna Incident
PLAY IT NOW: How Severe Are Rihanna's Injuries?

MORE ACCESS ON THESE TOPICS: Rihanna - Chris Brown - TV One - Music - Parenthood

Copyright NBCAH - Access Hollywood