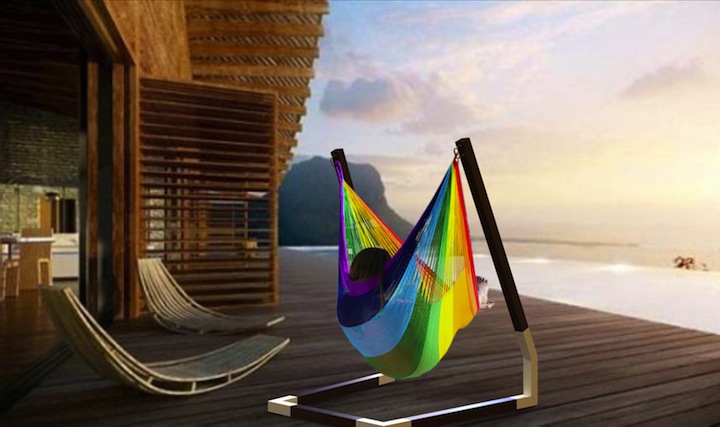 Yellow Leaf Hammocks founder Joe Demin traveled to visit a friend in Thailand in 2010 and when he stumbled upon the plight of the Mlabri, a Southeast Asian hill tribe who are among the most disadvantaged and vulnerable groups of society. Shortly after, he decided to completely change his life and start a company to help the Mlabri harness their artisanal talents and create a micro-economy while producing a viable commercial product, which came to be Yellow Leaf Hammocks. These hammocks have become the means to securing basic civil rights, combating deforestation and achieving financial security for these hill tribe villages in Northern Thailand. Meet the "chief relaxation officer" and founder Joe Demin.

How does a guy from Boston know hammocks?
Honestly, it was "love at first swing" when I first discovered these hammocks on a remote island in the Andaman Sea. As a life-long hammock connoisseur, I had always appreciated the power of a hammock–its ability to take you out of the stress in your life, even if for just a brief moment.
I think we all romanticize the idea behind a hammock-- relaxing, living a healthier lifestyle, traveling and adventure. Hammocks really embody all of those elements so I think no matter where you're from, whether it's a warm climate like Florida or a cold place like the Northeast, you can appreciate time spent in a hammock.

What made you want to stick with your plan to start Yellow Leaf Hammocks after you returned to the U.S. from Thailand?
It seemed ironic to me that the best, most relaxing hammocks in the world were being created by people who had endured such a tough, back-breaking life. Back in America, the newspapers were filled with tales of the recession-era- worker, productivity was soaring, charitable donations were drying up and stress levels were through the roof. But somehow this isolated village in the middle of one of the world's poorest regions, people were forging a better life for themselves and their children through these beautiful, functional works of art. I knew that if I could just share the story in the right way, Americans could feel the same emotional connection to these hammocks and these people that I did.

How did your friends and family react to your leaving the corporate world and trying to start a social enterprise/business of this nature?
Of course, when you decide to leave behind a stable job in the midst of a recession to pursue a "career" in hammocks, there are bound to be a lot of skeptical friends and concerned parents. But when people began to see that I was serious about dedicating myself to hammocks, they jumped on board pretty quickly. And when they got a chance to try out the hammocks and see firsthand how amazing they felt, they turned into my first customers! My mom is one of our biggest advocates.

Why do you think that there are not more business models like yours and Toms shoes? Are you optimistic that more companies like these will sprout?
I think there has been a rise in public consciousness about the products that we all consume and enjoy every day. Whether it's organic, locally farmed food or concern for the manufacturing conditions in a t-shirt factory, people are becoming more aware and more concerned about where their purchases are coming from, and that is a great sign for social enterprise and sustainability.

Our society and culture is going through a huge paradigm shift right now, and this is an exciting crossroads. I have faith that people are beginning to rethink their expectations from corporations and change their purchasing habits to reflect their awareness of impact on their community, their environment and the world in general.

What is the easiest way for an average person to help companies like yours?
The idea behind a social enterprise is that people don't need to give a donation or volunteer in order to make a huge difference. Instead, they can purchase a product that they really love, enjoy it every day and spread the word about the company and its mission.

Where do you draw your inspiration?
I constantly reflect on the time I've spent in Thailand visiting the Ban Boonyuen Village and seeing firsthand the impact our hammocks have on our weavers and their families. Realizing that without hammock weaving, these people would be trapped in poverty, indentured servitude and destructive slash and burn of the forests.

What would our readers find surprising to know about you?
Even though my title at Yellow Leaf is "Chief Relaxation Officer," I am constantly trying to curb my workaholic tendencies. I work longer hours now than I ever worked in a corporate job and I have to remind myself to take a break once in a while! But it feels great to know that every email I send and every hour I work takes us a little bit closer to this vision that I truly believe in. Plus, now I have a Sitting Hammock set up in my office for a change of scenery when I start to spend too much time hunched in front of the computer screen.


For more information on Yellow Leaf Hammocks, visit their website. To support their Kickstarter campaign, click here.
Copyright LXTVN - LXTV