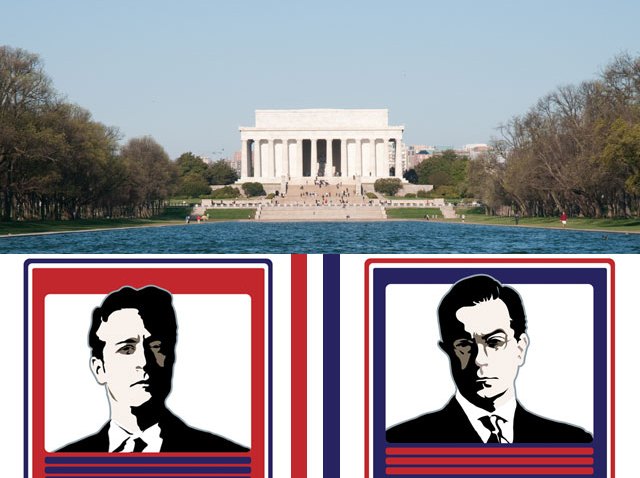 Millions of Jon Stewart and Stephen Colbert fans gathered in Washington D.C. and tuned in from home to the much anticipated "Rally to Restore Sanity and/or Fear" that poked fun at politics and media.
The mash-up of comedy, musical performances, and video clips took place at the National Mall in Washington D.C. and was broadcasted live on Comedy Central this afternoon.
"As I look out here today I can see we have over 10 million people. What makes it even better is the color I see, the variety I see," said Stewart in an introduction.
He added at the conclusion of the three-hour long festival: "We had some really incredible music performances here today...We had what some would classify as comedy as well."
The Roots and John Legend kicked off festivities in song. Kid Rock and Sheryl Crow came together in a duet towards the end, as did Tony Bennett with "America the Beautiful."
Other musical guests included Yusef Islam (formerly Cat Stevens) and Ozzy Osbourne, who competed in a musical battle of "Peace Train" and "Crazy Train" led by the opposite comedic hosts, mocking the political division of the country. This was finally resolved when the O'Jays came up to perform "Love Train."
The two fake news anchors didn't hog all the stand-up comedy on the schedule. Don Novello played his "Saturday Night Live" character Father Guido Sarducci and "Law and Order"'s Sam Waterson read a poem written by faux-conservative Colbert.
"That guy who just couped down your neck, does he have an infection? That restaurant that you went to brunch, did it pass the restaurant inspection," read some lines of the fear-inducing poetry.
Colbert made a grand entrance from below the stage in a vessel labeled "Chile" after hiding in a "Fear Bunker," waving a flag in a patriotic unitard and cape. His many costume changes also included starred pants and a flight jacket.
A reoccuring joke of the afternoon were the medals of "Reasonableness" given out by Stewart. One recipient included Armando Galagarra, a Detroit Tigers baseball player who stayed calm when an umpire made a bad call.
To counter Stewart's awards, Colbert also gave out his own medals of "Unreasonableness," which included hot-tempered New Jersey "Housewife" Theresa Giudice and infamous Jet Blue flight attendant Steven Slater
Between the fun and games, Stewart made clear that there was an optimistic message to be had at the end of the day, speaking often in metaphors about traffic.
"We know instinctively as a people that if we are able to get out of the darkness and back into the light, we need to keep together. And there will always be darkness," Stewart said, adding, "Sometimes, the light at the end of the tunnel isn't the Promise Land, it is just New Jersey."
Stewart had earlier emphasized that this is not a political rally in an interview with CNN's Larry King on Oct. 20.
"This is for the people that are too busy, that have jobs and lives, and are tired of their reflection in the media as being a divided country and a country that's ideological and conflicted and fighting. This is for those people. Those people are going to come to Washington, D.C., on Oct. 30th."
Stewart also said in the interview that this is not the anti-Glenn Back rally. "What we are doing is we are using the rally format to do the same thing that we do with our shows," he explained.
He also added, "Everybody should just wait and see what it is and make their own decisions."
There were, inevitability, a few snafu's. The audio was never quite loud enough, leaving many chanting refrains of "Turn it up!" and "Louder! Louder!"

"I could hear that Jon Stewart was speaking, but I couldn't understand anything he said," said D.C. resident Katie Leonetti said. "We ended up leaving so we could watch it at a bar."
But overall, the crowd seemed happy to be there.
"It was fantastic," rally-goer Jeff Cook of Houston, Tx., said after the festivities ended. "The pleasure of meeting people, the excitement, it was really great."
Selected Readings: The Wall Street Journal, The New York Times, The Christian Science Monitor, Facebook, Rally Web site, The Daily Show Web site, The Los Angeles Times