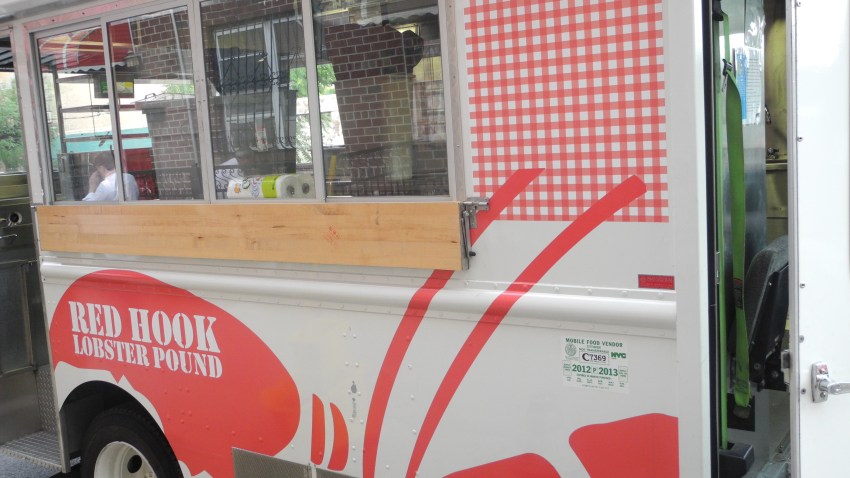 Producers Maureen Giannone and Brian Mait hit the streets of New York to take on the arduous task of scouting NYC's hottest destinations for upcoming episodes of 1st Look. Here's what they found this week.

Despite a midday downpour, Madison Square Eats, an outdoor collection of food stands, opened to a bustling crowd last week. This temporary makeshift market provides an outlet for some of Manhattan's finest eateries to offer up passersby a taste of what the city has to offer. And though we didn't get a chance to taste everything (leave that to another day of afternoon scouting), we'd love to fill you in on some of the crowd favorites from opening day.

Almond
Already missing Octoberfest? Well, don't fret. There's enough meat to go around at the Almond hut. We indulged in two sandwiches: the Pastrami Sliders and Jalapeno Cheddar Bratwurst. The sandwiches were each separately delicious, with a dressing of spicy pickles and 'kraut. An ice cold beer (which they DO serve at MSqE) could have been the perfect drink to wash down these hefty bites, but since we were working, we decided to be professionals and stick to a beer from a different root. But real hops and suds are in our future, because with every purchase at this stand, you get a coupon for "Buy 1, Get 1" beers at the restaurant on 22nd street. Win, win!

Roberta's
Dorothy: "Toto, I have a feeling we're not in Brooklyn any more." Toto: "Yo, Dotty. That's Brooklyn pizza if I've ever sniffed it." Yes, Toto, you're right. It's Roberta's. But they've crossed the bridge to fill the stomachs of Manhattanites here at MSqE--lucky us! If it weren't already evident by all the empty pizza boxes and surrounding saucy lips, this slice is hot at the park. And the smell--yes, the delicious lingering scent--matches the deliciousness of every bite. With those mini thin crusts, we may have housed a pie or two... or three, or four.

Red Hook Lobster Pound
To be honest, we've never seen so many lobster claws on one NYC street corner. And with mouths watering from left to right, we couldn't get away from that lovely buttery delight. Here are our tips: 1. Come knowing whether you prefer the Maine or Connecticut style (these producers' votes are split!) and 2. COME EARLY! Because as we unfortunately experienced, the stand's big hit is the Lobster Mac 'n' Cheese, and it runs out quick!


And this age-old question of who makes the best lobster roll is further investigated this weekend on the "Best Thing Between Two Buns" episode of 1st Look. So tune in Saturday, October 8 at 7:30PM and 1AM after Saturday Night Live!


Madison Square Eats is centralized on 5th avenue between 24th and 25th streets.
Copyright LXTVN - LXTV