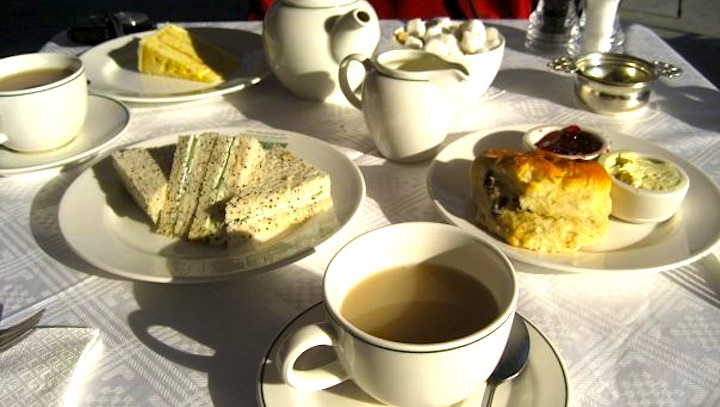 You can enjoy classic British afternoon tea culture right here in New York. Afternoon tea was created to satisfy the meal between lunch and dinner and now this glorified British snack time has been copied and reinterpreted by many places. Get a taste of this definitive English staple at one of these New York City destinations.

Crosby Hotel NYC
79 Crosby St. / Soho
212-226-6400
Love afternoon tea, but don't care for the fussiness? This chic spot gives you exactly what you would want out of an afternoon tea experience with a low key flare. The tea is from nearby Harney and Sons, so the Crosby Hotel is able to offer a variety of flavors and blends. All of the courses, such as finger sandwiches, butter scones, cupcakes, tarts, brownies, as well as clotted cream and fruit preserves are served on a three-tier stand so you can start with whatever you want. A nice aspect about this place is its humble and pretty atmosphere, where you can sit and schmooze a while.

The Pembroke Tea Room
28 East 63rd St. / Upper East Side
212-838-1400
The Pembroke Room located in The Lowell Hotel is a very classy afternoon tea place. Try their Classic Tea experience with tea, sandwiches, scones, and pastries, or their Royal Tea experience, which is basically Classic Tea, but with Champagne, Port, or Sherry. Built in the 1920s, the ambience oozes a luxurious and ephemeral feel. They have a variety of tea to choose from as well as classic sandwiches like cucumber, egg salad, salmon, turkey, but the Maine Lobster finger sandwich is rather original and added some flare to the traditional flavors. The Pembroke of course offers scones, and other pastries for you to sample while sipping a warm cup of tea.

Lady Mendl's Tea Salon
56 Irving Place / Gramercy
212-533-4600
This tea salon is perfect for anyone who ever wanted to step into the tea party of your favorite British novel, where each table is ornately decorated, and the aroma is of fresh flowers. Originally built in the 1800s, these two brownstone homes have been connected, and since 1994, have become Lady Mendl's Tea salon. To add to the very romantic and unique ambiance, classical music plays throughout the rooms filled with plush couches. Candied ginger and sugar garnish the nicely set table, and each teacup has a cute sugar cube with a designed rose perfect to dissolve into a variety of tea options. As for the courses, each course is brought out separately, instead of on tiered platters, which is the traditional way of serving afternoon tea. While the courses are plenty, the stand-outs are their crepe-layered cake and the chocolate-covered strawberry, as promised at the end of the meal.

Bosie Tea Parlor
10 Morton St / West Village
212-352-9900
Every tea place seems to have their own version on what food to serve for afternoon tea, and at Bosie Tea Parlor they not only have the classic tea sandwiches, but they have new flavors like chicken curry with golden raisins, and cheddar cheese and pickles. A charming touch is that the whole place is adorned with holders filled with tea. Although what seems to be the most alluring, besides the tea, is their macarons that have been ranked amongst the best macarons in NYC with Laduree and Maison du Chocolat. With flavors like pistachio and salted caramel, how could you say no? The atmosphere may not be very ornate or rich in history but its appetizing food will keep you coming back to this humble little restaurant.

The Ritz-Carlton
50 Central Park South / Midtown
212-308-9100
After you stroll through Central Park, why not end your adventure and satisfy your appetite at the Ritz Carlton for some afternoon tea and a little repast? Bite-sized snacks, cute desserts, and a cup of tea is just what you'll want to top of a classy afternoon in the city. Sophisticated casual attire is suggested, and it may be a bit pricier than other places, but it is sure to be a wonderful experience.

Chat Noir
230 Merrick Rd
Rockville Centre, NY
516-208-8521
Chat noir is a very fancy and cozy place, and will also make you feel like your five-year old tea fantasy with your stuffed animals is coming true, with its botanic furniture and matching tea sets. But with that said Chat Noir is a very grown up place and has all the traditional foods you will find at any afternoon tea place, such as the three-tier stand with sandwiches and pastries. Chat Noir also has a broader menu including delicious sandwiches like croquet monsieur (French grilled cheese) with salad, curry chicken salad sandwiches, and many more. They of course have a very wide selection of teas, which change frequently.

Copyright LXTVN - LXTV