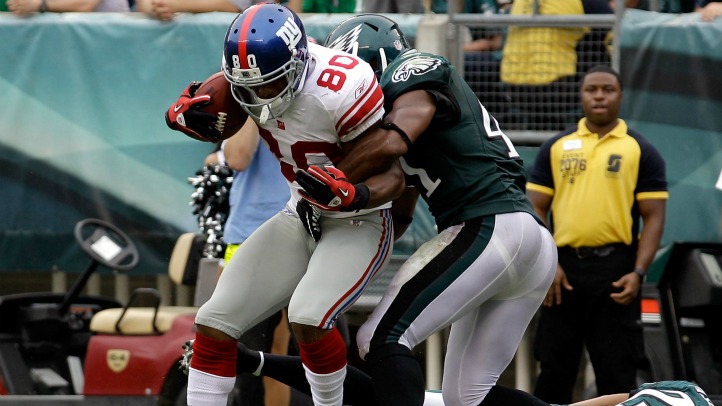 The curse is finally over.
For the first time since their first meeting of the 2008 season, the Giants found a way to hold off the Eagles for a full 60 minutes. They entered Philly as a serious underdogs, but they left town with a convincing 29-16 victory that left the Eagles looking like faux-contenders instead of the dream team they believe themselves to be.
It figures that the biggest player in this momentum-changing victory would be a player who never played against the Eagles before. Victor Cruz, the 2010 preseason darling and 2011 regular season disappointment, had a breakout game with two impressive touchdown catches that made a mockery of the hype accorded the Eagles secondary.
His first score came on a short pass that Cruz turned into a 74-yard touchdown by breaking two tackles and then outrunning the entire Eagles defense. His second came on a jump ball from Eli Manning that Cruz caught between two Eagles before muscling his way into the end zone.
Cruz's game was a good sign for an offense that has desperately needed someone to step up to help the passing game. Mario Manningham was out with a concussion, but the team didn't miss him a bit thanks to Cruz's big afternoon.
The Giants defense was more experienced in games like this, but they were able to erase a lot of memories from last season by shutting down the Eagles offense on Sunday. Michael Vick looked out of sorts all day, either because of his concussion or because of the defensive scheme, and was eventually forced out of the contest with a broken right hand.
Another big difference from the last few years was the way the Giants got the breaks instead of watching them all go the other way. The Eagles dropped a pass that turned into an interception, committed a brutal offsides penalty on a field goal to lead to an insurance touchdown and watched Andy Reid make mincemeat of several chances to take over the game.
The Eagles had two different drives with first-and-goal from inside the three, but Reid couldn't get a touchdown either time thanks to play calls that made no use of LeSean McCoy, who shredded the Giants for most of the afternoon. Almost every other team in the NFL has benefitted from Reid's inability to make intelligent short yardage calls, so it must have felt nice for the Giants to finally get their chance.
That was brilliant coaching compared to Reid's decision to go for it on fourth-and-one from the Giants' 43 with just under 12 minutes to play in the fourth quarter. The Eagles had come back from being down14-0 to take a 16-14 lead and had a chance to pin a Giants defense they had shut down for two quarters deep in their own zone.
Reid called a run, the Giants held and took over the ball needing only a short drive for a go-ahead field goal. It was obvious to everyone on the field that Vick wasn't in fine form, long before the broken hand, but Reid seemed to think winning with defense was a bad idea.
Thanks to Cruz, the Giants got much more than a field goal. They got a touchdown and they got a win that makes everything look completely different for this football team.
None of the above should take anything away from the Giants defense. They came up with seven huge stops, regardless of what Reid should have done, and they fought hard all day when few people thought they had enough fight in them to win a game like this.
They are now 2-1, with a win over a team that has owned them for three years, and they found a way to win a game after the tide had turned against them for the first time in ages. That's what we call changing the narrative, and the Giants couldn't have done a better job of it on Sunday.
Josh Alper is a writer living in New York City. You can follow him on Twitter and he is also a contributor to Pro Football Talk.
Copyright FREEL - NBC Local Media