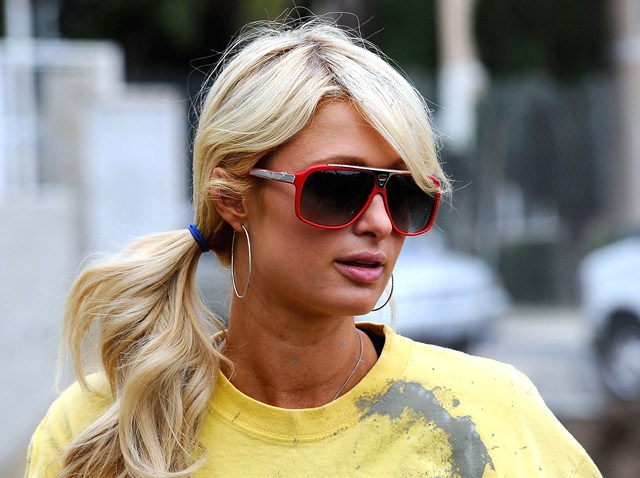 Paris Hilton may have been ordered by a Las Vegas judge to perform community service, but on Friday, when she was spotted on the job, there were no traditional orange vests in sight!
On Friday, the paparazzi captured the heiress cleaning up graffiti, while dressed in tight black pants, a yellow tee over a billowing zigzag, black and white top and high heels.
VIEW THE PHOTOS: Paris Goes Free!
According to Radar Online, however, the heels were a no-no.
The website reported that that the listed guidelines of the Hollywood Beautification Team, which the heiress was said to be working with, state that workers are supposed to dress accordingly and "prepare to get dirty." Also in the guidelines – no high-heeled shoes.
VIEW THE PHOTOS: Paris' Court Date
Additionally, the guidelines reportedly state that those involved with the program must arrive at 7:00 AM. If they are 15 minutes late, they will not be allowed to work that day.
As previously reported on AccessHollywood.com, in late September, Paris pleaded guilty to two misdemeanor charges stemming from her August arrest at a Las Vegas hotel-casino.
She was sentence to a year of probation. Additionally, Hilton was ordered to complete a drug abuse program, pay a ,000 fine and serve 200 hours of community service.
VIEW THE PHOTOS: Paris Hilton's Journey From 'Simple' To Superstar!
Copyright 2010 by NBC Universal, Inc. All rights reserved.
This material may not be published, broadcast, rewritten or redistributed.
Related Content from AccessHollywood.com:
VIEW THE PHOTOS: Celebs In Court
PLAY IT NOW: Paris & Nicky Hitlon 'Love' Victoria's Secret
PLAY IT NOW: Paris & Nicky Hilton Hit 'The Real Housewives Of Beverly Hills' Premiere, Los Angeles
More from Access: [ Paris Hilton Courts Reality TV ]
Copyright NBCAH - Access Hollywood