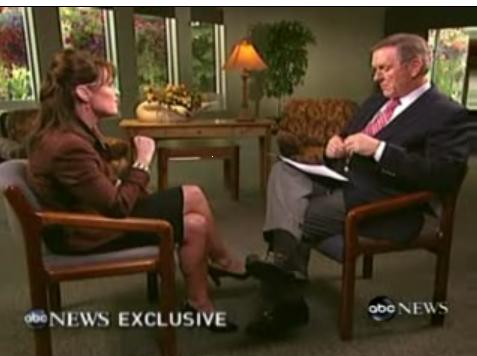 Sarah Palin's first televised interview as John McCain's running mate was viewed as a test of her political prowess -- but her attempt to silence all the critics who claim the first-term governor and self-proclaimed hockey mom doesn't have the political chops for Washington was met with mixed reviews.
Palin's poise and confidence were rock solid. She never appeared shaken or nervous during the interview with ABC's Charles Gibson, but her answers seemed rehearsed and were void of the vigor she demonstrated in the dazzling scripted performances that have vaulted Palin to rock star status.
"Her answers to a fairly basic set of foreign policy questions were formulaic and unimpressive," wrote Howard Wolfson in the New Republic. "She didn't say anything disqualifying, but it is unlikely that anyone watching would have come away sanguine about her ability to step in as president on day one if necessary."
Palin caught the most flak when she bungled several important policy questions. Some critics interpreted her answers as rehearsed and, in one instance, an indication that she couldn't define the "Bush doctrine" when asked her thoughts on it repeatedly -- further entrenching critics' arguments that she is too inexperienced to lead.
"What Sarah Palin revealed is that she has not been interested enough in world affairs to become minimally conversant with the issues," wrote James Fallows in The Atlantic. "But not to recognize the name, as obviously was the case for Palin, indicates not a failure of last-minute cramming back a lack of attention to any foreign-policy discussion whatsoever in the last seven years."
Palin earned points when she came off as hawkish, saying the U.S. should engage in a war with Russian if the latter invades another country. She also adamantly defended her qualifications and when Gibson asked her to "look the country in the eye" and say she thought she had enough experience to be veep delivered a strong response in the affirmative.
"Governor Palin put her critics on notice with her performance tonight that she is more than ready," wrote Rep. Roy Blunt (R-Mo.) in Politico. "[She] hit the ball out of the park in her interview."
Palin has one more chance to convince naysayers that the pit bull with lipstick is ready for Washington. Part two of the Palin interview will be broadcast tonight.