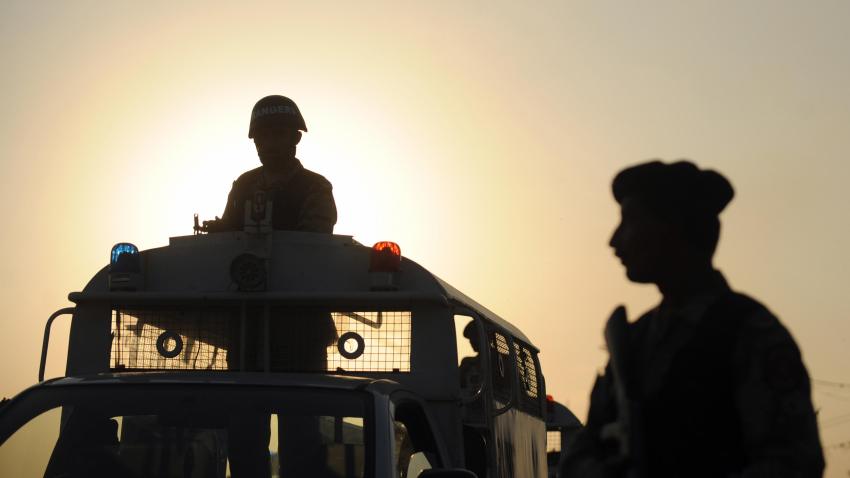 Pakistan
began moving thousands of troops away from the Afghan border toward
India
on Friday amid tensions following the
Mumbai
attacks, intelligence officials said.
The move represents a sharp escalation in the stand off between the nuclear-armed neighbors and stands to weaken Pakistan's U.S.-backed campaign against al-Qaida and Taliban close to
Afghanistan
.
Two intelligence officials said the army's 14th Division was being redeployed to
Kasur
and Sialkot, close to the Indian border. They said some 20,000 troops were on the move. Earlier Friday, a security official said that all troop leave had been canceled.
The officials spoke on condition of anonymity because of the sensitivity of the situation.
Indian officials could not be immediately reached for comment.
An Associated Press reporter in Dera Ismail Khan, a district that borders the Afghan-frontier province of South Waziristan, said he saw around 40 trucks loaded with soldiers heading away from the Afghan border.
India is blaming Pakistan-based militants for last month's attacks on Mumbai. Islamabad has said it will cooperate in any probe, but says it has seen no evidence backing up India's claims.
Both countries have said they hope to avoid military conflict. But Pakistan has promised to respond aggressively if India uses force, an option the Indian government has not ruled out as it presses its neighbor to crack down on the Pakistan-based terrorist group it blames for the attacks.
"We need a de-escalation in tension through negotiations," Babar Awan, Pakistan's minister for parliamentary affairs, told reporters Friday. "We will continue our efforts at an international level and also at a regional level, but let me make it very clear that we will not surrender an inch. We will fight any adventure, any aggression."
Hard-liners have sought to raise tensions between the two countries after the Mumbai assaults, but senior Indian and Pakistani officials have tried to navigate a careful path, defending their country's honor without triggering military conflict.

Pakistan accused Indian fighter jets of violating its airspace on two separate occasions more than a week ago, raising the possibility of conflict. But Pakistani officials subsequently played down the incidents, saying the violations, which India denied altogether, were likely accidental.
Pakistani fighter jets have flown over several of the country's major cities in recent days after the alleged airspace violations.
Pakistan has deployed more than 100,000 soldiers in Waziristan and other northwestern regions to fight Islamic militants blamed for surging violence against Western troops in Afghanistan.
A senior security official refused to comment directly on Friday's troop movements, but said, "Necessary defensive measures have been taken, they are in place and Pakistan's armed forces are prepared to tackle any eventuality."
He asked his name not be used, citing the sensitivity of the situation.
Pakistan and India have fought three wars since their independence from Britain in 1947.
Pakistan has arrested several senior members of the banned group and moved against a charity that India and the U.N. say is a front for Lashkar. But the country has also demanded India share evidence of its allegations before prosecuting anyone for the attacks in Pakistani courts.
Many in India are skeptical Pakistan will follow through on its crackdown against Lashkar because it was created in the 1980s with the help of Pakistan's intelligence service and has been used to pressure India over the disputed region of Kashmir.
Copyright AP - Associated Press