Wildlife is taking over the Olympic golf course just before the sport makes its official comeback to the Games after 112 years.
Capybaras have been seen exploring and settling in on the green, in sand traps and near water hazards, according to The National Post.
The animal, native to South America, is a semi-aquatic rodent that can weigh up to 100 pounds and can stand about 2 feet tall. It's the largest rodent in the world.
[NATL] Day 4: Highlights From the Rio Olympics
"They chew down on the grass at night," Mark Johnson, director of international agronomy for the PGA Tour told The National Post. "There are about 30-40 of them inside the course perimeter, but they live here and we play golf here, we co-exist."
Golfers set to take part don't seem to be too fazed — at least not yet. Several have stopped to take photos of the rodents during their practice rounds.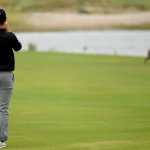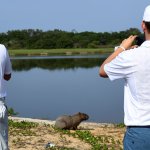 Golf's return — which is coming back for the first time since 1904 — is being overshadowed on social media by the large rodents.
The cute animals aren't the only wildlife spotted around the green. The National Post also reported owls, two-toed sloths, monkeys and a small crocodile at the course.