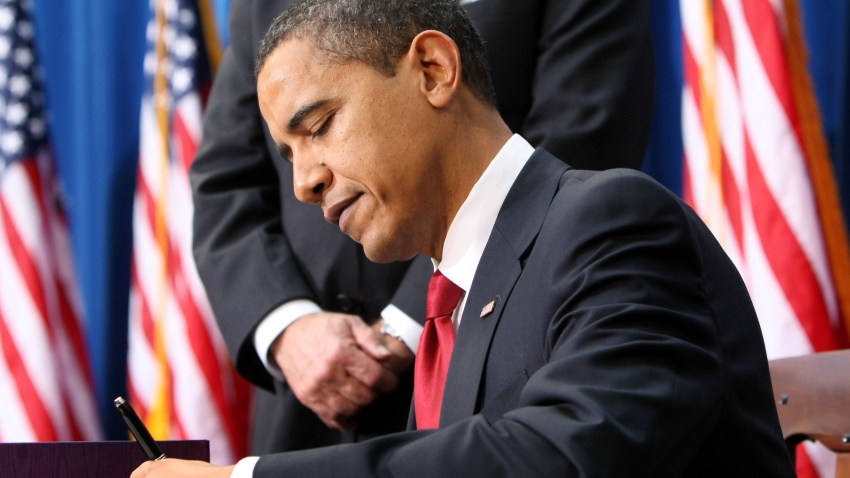 President Barack Obama wasted no time in getting his massive $787 billion stimulus bill passed, and you should feel it hit your wallet by April Fool's day. No joke.
"Never before in our history has a tax cut taken effect faster or gone to so many hardworking Americans," Obama said today in his weekly radio and Internet address.
Obama said that the Treasury Department has already set in motion the reduction of withholding taken out of most Americans' paychecks. Within six weeks, the average family should have at least an extra $65 a month.
The "Making Work Pay" tax break will affect 95 percent of working families, according to the president.
The $400 credit for individuals is to be doled out through the rest of the year. Couples are slated to get up to $800. Most workers are to see about a $13 per week increase in their take-home pay. In 2010, the credit would be about $7.70 a week, if it is spread over the entire year.
Even folks who don't earn enough to owe income taxes are eligible for the credit, an attempt to offset the payroll taxes they pay.
"It is only a first step on the road to economic recovery. And we cannot fail to complete the journey." Obama said, adding that the country also must stem foreclosures, repair the banking system, get credit flowing again and revamp financial industry regulations.
Come Thursday, Obama will send Congress highlights of his budget request. One administration official says it will disclose that Obama plans to cut the federal deficit in half by the end of his first term, mostly by scaling back Iraq war spending, raising taxes on the wealthiest and streamlining government.
Copyright AP - Associated Press