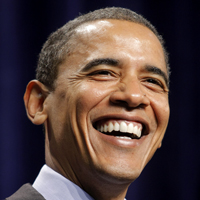 He's been called a superstar and a celebrity, so why wouldn't he go on Leno?
That's the issue because, while Obama is only the second sitting president to appear on the late-night talk show circuit (JFK appeared on TV with Jack Parr), neither the president's overexposure nor the gravity of the nation's problems can be denied.
So, we all know the message he is going to push: The economy is in the tank, big corporations are evil, public education is failing us, health-care's even worse, yada, yada, yada.
So tonight is Barry's chance to stop putting people to sleep and really tap into that charismatic star power he lost with his ongoing series of cabinet appointment failures and perceived flip-flops on campaign promises.
Obama did make some friends in California last night during a
Town Hall meeting in Costa Mesa
, playing the role of the embattled populist crusader, helping average Americans fight entrenched interests on Capitol Hill and Wall Street.

He said Southern California's weather and conversations are much nicer than in Washington. Obama defended his ambitious plan to overhaul health care, energy, education, taxes and spending policies in the coming months, against unidentified forces aligned against him.

"I know some folks in Washington and on Wall Street are saying we should focus on only one problem at a time: 'our problem,'" Obama said. "But that's just not the way it works."

"You don't get to choose between paying your mortgage bills or your medical bills," he told those in a hot auditorium.
Today the president is playing a bit of divide and conquer, pitting his Republican critics in Washington against GOP governors and mayors eager for the federal money that his hard-fought stimulus plan will bring. Next on the list of Republican notables to embrace Obama is California Gov. Arnold Schwarzenegger, who was to join the president at a town hall meeting today in Los Angeles.
Congress recently enacted Obama's $787 billion stimulus bill without a single House Republican's vote, and with only three GOP senators' votes.
Republican governors have had mixed reactions to the massive measure. Some hardline conservatives, such as Mark Sanford of South Carolina, have rejected portions of the economic bounty.
Other GOP governors, including Charlie Crist of Florida, have welcomed Obama and the stimulus money. Schwarzenegger is casting his lot with that group.
The president will cap the day on the Tonight Show, an arena where his sometime holier-than-thou persona has made him the butt of a late-night
crack or two
:
Last August, on then-candidate Obama's birthday, Leno joked, "Of course, Obama's supporters got him his usual birthday gifts of gold, frankincense, and myrrh."
"We don't look at it as a process of demonstrating the president's sense of humor,"
Gibbs said
, but rather a chance "to explain the economic situation we are in."
Copyright AP - Associated Press