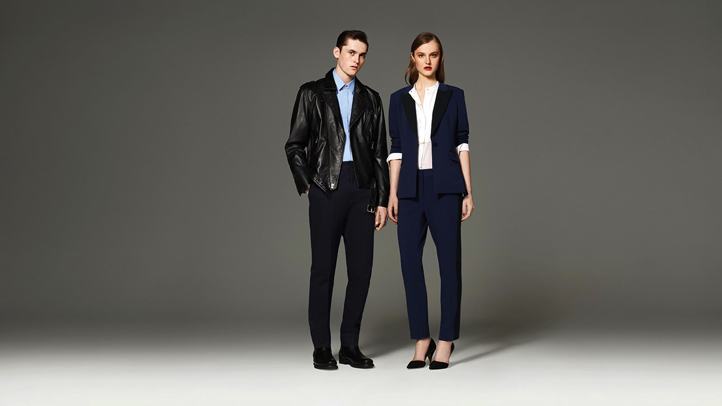 The first signs are subtle: a nervous model on her way to a casting gripping her portfolio in the subway, or a frenzied editor ducking into a Garment District doorway to preview a new silhouette.
Then, there's the sudden arrival of heavy coats and leather boots (when temperatures remain in the high eighties) in our favorite stores. But come September, when sidewalks are crowded with international fashion editors, waify PYT's and eager, camera-toting bloggers, there's no mistaking that New York Fashion Week is here.
The buzz sizzles outside of Milk Studios and Lincoln Center as PR agencies and brand reps spruce the tents for seven (well, eight, depending who you ask) days of nonstop runway shows, parties and presentations. But even if you're soaking up the chic from the sidelines, there's plenty of gossip, rumors, and celeb-sightings to propel you through one of the most stylish weeks of the year.
Here, ten things we can't wait for:
1. Nina Garcia is Rocking Google Glass to the Tents
Even though we suspect Nina Garcia wouldn't aesthetically approve of the slightly-dorky design of Google Glass—which look a lot like the goggles we wore to Chemistry 101 in high-school—the editor has agreed to don the tech accessory during her busy week of show-going. "I'm not going to say it came so easily," Garcia told WWD of the learning curve for the device, but the Marie Claire creative director adds she is now ready to employ the device throughout the week.
2. Phillip Lim's Target Collection Will Drop
Target's most highly-anticipated collaboration since Rodarte hits stores on September 15, and it is teeming with work-ready dresses, candy colored cross-body bags, and one seriously perfect trench. There are also awesome hightops for the guys.
3. Lindsay Lohan Has a New Style Blog
Fresh off the release of her seedy flick, "The Canyons," the recently rehabbed party girl has re-launched her personal site as a style-obsessed blog, LindsayLohan.com, complete with outfit suggestions based on LiLo's previous ensembles. At least we'll have a new diversion to click through while trying to look cool and busy while idling in line at Lincoln Center.
4. Baby's First Fashion Week
Given that KimYe consulted Anna Wintour on their baby name choice, and that Yeezy has voiced his desire to have kiddo on the cover of Vogue, we're hoping to spot baby North in a booster seat at a few Spring '14 shows. With any luck, designers will offer appropriately infant-proof goodie bags (we're thinking leather pacifiers at Alexander Wang and rattles shaped like Marc Jacobs).
5. Bonjour, "Mademoiselle C"
Insiders and fashion fans alike will be lining up in droves for "Mademoiselle C," Fabien Constant's forthcoming documentary about former French Vogue editor and street style icon, Carine Roitfeld, set to drop September 11. The movie will document the editor's ten year stint at Vogue as well as the launch of her new venture, CR Fashion Book, her move into to NYC, and—yes—her penchant for stovepipe pants and very tall boots.
6. Allsaints' Multimedia Bonzanza
UK-based brand, Allsaints—perhaps best known as the store that blasts you with AC whenever you pass it on Broadway —is staging its first-ever show at NYFW. According to Bustle, the presentation will "disrupt" our preconceived notions about fashion shows by integrating product with digital features and music. We just hope they don't serve English snacks.
7. VFiles' Crowd Sourced Fashion Show
VFiles—the publisher/social media hybrid dreamed up by editor (and girl crush), Julie Anne Quay—is using the resources of its online community to create a "user generated" fashion show set to showcase three designers: Ammerman Schlosberg, Maria ke Fisherman and Sam Mc. Best of all, you can scoop up the young designer's swag immediately after the show.
8. Beyonce's New 'Do
Short hair was already having a major moment (if you haven't booked an appointment to chop your locks to Karlie Kloss lengths, it's time to get on it). But now that Queen Bey has sheared her mane into a foxy blonde crop, we're betting the trend will reach fever pitch at NYFW. And given the diva's propensity for dramatic designer garb, it's not too much to hope for an in-person sighting of bodacious bob at the tents this season.
9. Down Under Chic with Zimmermann
Aussie label Zimmermann is best known for its super-chic (and wallet emptying) swimwear. But on September 6th, the brand—which has been trying to emphasize its dreamy ready-to-wear creations—is staging a full blown fashion week presentation at Lincoln Center. According to the Fashion Spot, it's the only Down Under brand with a NYFW time slot.

10. Brett Johnson's NYFW Debut
Brett Johnson, son of BET founder Robert L Johnson (the first black billionaire in the US), is launching a collection of rugged, street-ready outerwear at the tents this season. Judging by the preview pics in the New York Daily News, fellas will find plenty of warm winter pieces to covet (and we can't help but wonder: does that moto jacket come in a women's size?).
Follow Blair: @blairpfander