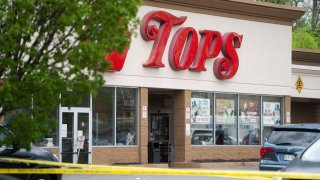 A New York corrections officer has been suspended without pay after allegedly sharing a social media post joking about the Tops supermarket shooting over the weekend that left 10 dead and three others injured.
Gregory C. Foster II, a correction officer at the Attica Correctional Facility in Attica, about a hour away from Buffalo, shared a "despicable social media post," the New York State Department of Corrections and Community Supervision (DOCCS) said in a Tuesday statement.
He allegedly shared a meme on Facebook that showed a photo of the Tops supermarket with a caption about a "clean up" in multiple aisles DOCCS confirmed.
Authorities have called the supermarket attack a hate motivated shooting as 11 of the 13 people shot were Black by a white 18-year-old gunman.
NBC News was unable to reach Foster. His Facebook page was also no longer viewable.