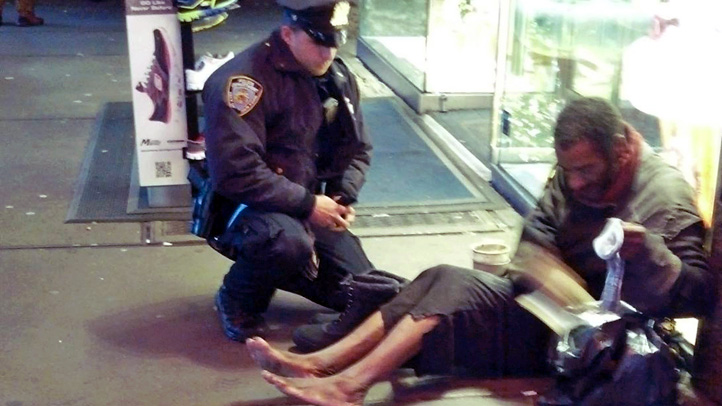 The barefoot man whose image was shared worldwide when a tourist snapped a photo of an NYPD officer giving him boots on a cold Times Square sidewalk is shoeless again.
The New York Times found him Sunday night wandering barefoot on Manhattan's Upper West Side neighborhood. The paper identified him as Jeffrey Hillman, formerly of South Plainfield, N.J.
Asked about the $100 all-weather boots Officer Larry DePrimo gave him on Nov. 14, Hillman said he's hidden them because "they are worth a lot of money." He said he could lose his life over them.
The Arizona tourist's photo of DePrimo kneeling on the ground to give the man boots quickly became an online sensation, generating more than 325,000 "likes" on the NYPD's Facebook page.
Hillman told the Times he was grateful for the gift, but he said he wanted "a piece of the pie" because the photo went on the Internet "without permission."
"I appreciate what the officer did, don't get me wrong," he added. "I wish there were more people like him in the world."
Hillman also told the Times he wanted to "thank everyone that got onto this thing. I want to thank them from the bottom of my heart. It meant a lot to me. And to the officer, first and foremost."
DePrimo appeared Friday on the "Today" show along with Jennifer Foster, the tourist who snapped the image that was shared around the world. DePrimo called the response to the photo "surreal and extremely humbling" and said he kept the receipt for the boots in his vest as a reminder of some people's circumstances.
Hillman told the Times he served as a "food service specialist" in the United States and Germany after joining the Army in 1978 and worked in New Jersey kitchens after his honorable discharge five years into the service. He didn't explain how he ended up homeless.
Sources familiar with Hillman told NBC 4 New York he often panhandles in Times Square and was placed in veteran's housing some time in the past year. It's not clear if he still has a place to live.
The Times reported other people, in addition to one of its reporters, said they saw Hillman barefoot on the street after DePrimo gave him the shoes. One woman told the paper she bought him a pair of shoes a year ago.
Copyright AP - Associated Press