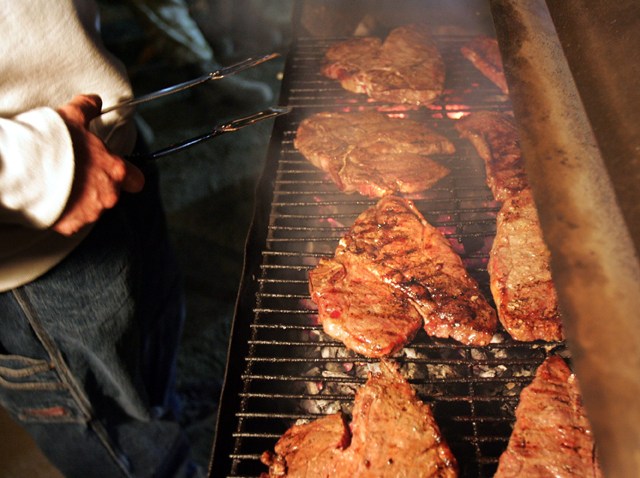 Picture this. A sizzling grill on a summer night, your favorite marinade or rub cooking up a flavorful aroma, all while sipping a refreshing glass of wine.
Sounds like the recipe to a winning night and former New York Giants halfback Charles "Get Out of My" Way couldn't agree more.
The North Philly native and current director of player development for the Giants is teaming up with the St. Francis Winery for a summer contest challenging you to draw up a game plan of your own -- for the most bold and flavorful recipe.
"This contest encourages backyard cooks to create their own unique flavor combinations on the grill," said grilling expert and judge Elizabeth Karmel.
Create a three-minute or less original video showing your ideal summer grilling recipe paired with a St. Francis wine. Just submit your video on the contest's YouTube channel and register on their site before August 31.
So, what's it take to be crowned the "St. Francis Grill Master?"
Way says presentation is key:
"How well are they presenting their meat, how they pick their wine and their description of the type of rub and marinade," he said.
Unfortunately, those mouth-watering flavors won't come through the screen so the video should be clear enough to show off all those savory smells -- in this case the eyes really are bigger than the stomach.
And most importantly, "Would it be easy for me to replicate?" asked Way.
The former halfback admits he's still looking for the perfect St. Francis wine for his homemade rib eye marinade and enjoys experimenting with new things. He gets plenty of practice in the kitchen, especially from a little friendly competition amongst the Giants team -- their own version of "Iron Chef."
The Turn Up the Heat winner will receive a three-day, all expense paid vacation for two to the St. Francis Winery and Vineyard in Sonoma County, Cal. -- a much needed vacation after all the wining and dining you'll be doing to prepare.
But if you don't get MVP, that's OK too. There are prizes for Best Wine Pairing, Boldest Flavor Recipe, Most Creative Way to Turn Up the Heat and of course, the Sexiest Steak.
So if you think you've got a touchdown recipe, get to grillin' and show Way and the rest of the Savor the Flavor judges what Philly grillers can get cooking.