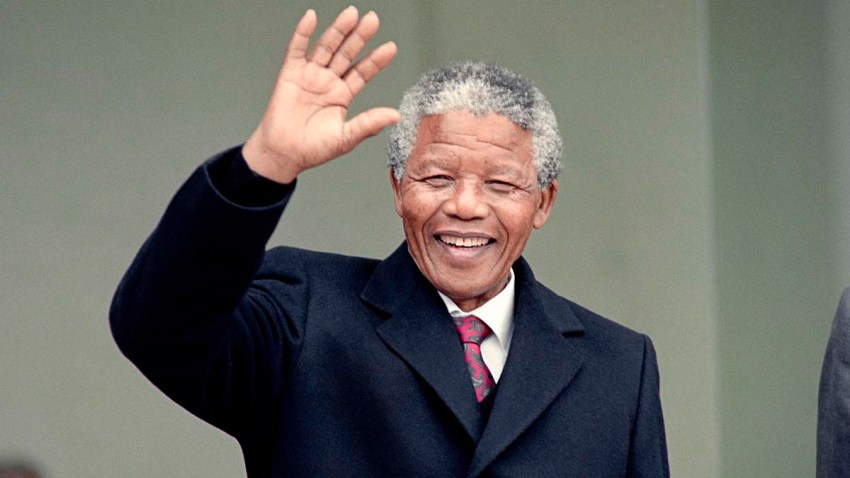 Nelson Mandela will never be forgotten.
The prominent political leader, whose life-long work to end apartheid in his native South Africa and subsequent election as the country's first black president made him an icon and furthermore, a global symbol of peace and social change, died Thursday, the government of South Africa confirmed. He was 95.
According to reports, Mandela died from complications due a recurring lung infection. He had been hospitalized since June 8.
And as with many cases lately, the world began to mourn the loss of such a peaceful soul on social media.
Olivia Wilde: "Oh Mandela, rest in peaceful freedom."
Anderson Cooper: "Mandela is gone. There is no one else like him."
Marlee Matlin: "So sad to read of the passing of the symbol of global resistance to racism. RIP Nelson Mandela."
Piers Morgan: "BREAKING NEWS: Nelson Mandela has died, aged 95. One of the great men of history. RIP."
Patti Stanger: "May the peace minister #NelsonMandela RIP as I'm sure the angels are dancing with joy tonight to get to hang with such a great man! Namaste."
DL Hughley: "RIP Nelson Mandela u changed the Whole world with your dignity and Strength!!! #TeamDl"
Tyra Banks: "@NelsonMandela, 95 powerful years on this earth yet freedom for INFINITY because of you. You are an angel that will live forever."
PHOTOS: Hollywood gets political
Damian McGinty: "Nelson Mandela. Legend of all legends. Deserves his rest."
Alyssa Milano: "'There is nothing like returning to a place that remains unchanged to find the ways in which you yourself have altered.' ~Nelson Mandela"
Nancy Pelosi: "May the life of Nelson Mandela long stand as the ultimate tribute to the triumph of hope."
Michael Moore: "Thank you, Nelson Mandela. Freedom."
Ethan Zohn: "'Education is the most powerful weapon which you can use to change the world.' - Nelson Mandela #Madiba"
Josh Groban: "We have lost one of humanity's greatest treasures. RIP Madiba. I will never forget the lessons learned from him or his vision that lives on."
Donald Faison: "RIP Nelson Mandela."
Ann Curry: "Nelson Mandela has died. Respect."
Forest Whittaker issued the following statement: "I walk on the strength of his ideals and I am inspired by his courage and convictions to always believe in the light that exists in all of us. His legacy will live onward in the spirit of every human being who believes that all deserve the right to live a life where food and shelter exist, where freedom belongs to everyone, and all are given the opportunity to fully pursue their hopes and dreams. We are blessed that he lived among us!"
Bill and Camille Cosby issued the following statement: " We are and will be eternally grateful to Mr. Mandela for surrounding us with his graciousness, care and respect after we lost our son, Ennis. Moreover, it was an honor to sit alongside him on the bed of his former prison cell; as he triumphantly spoke about his survival and the courage of his supporters."
Beyonce posted two images on Instagram, one captioned: Thank you for all you have sacrificed to improve the lives of other human beings. Rest in peace.❤️
Ryan Phillippe: "What an amazing life lead by Madiba. A light &inspiration to the world...The privilege of spending a small amount of private time w/ Mr. Mandela as he held my baby daughter, is a highlight of my life...It was like being in the presence of a diety. He truly emanated warmth and humanity. Imperfect, like us all, but w/ a strength few possess...Mandela was bouncing Ava, then two yrs old, on his knee &called her, "future leader". I couldn't believe it in that moment. I still can't."
Mike Tyson: "I'm hearing about Nelson Mandela's death while on African soil in Oran, Algeria. Sending prayers to Mandela's family."
Christy Turlington on Instagram: RIP Madiba
Cory Booker: "Humanity has lost one of our greatest. RIP Nelson Mandela. Thank you for teaching us a deeper meaning of love, leadership &sacrifice."
Russell Simmons: "Nelson Mandela was an angel walking on this earth. You were one the greatest teachers this world has ever known. We love you and we miss you"
John Cusack: "Rest in Peace Nelson #Mandela -- a true champion of #HumanRights." Peace - justice - love"
Larry King: "Sad to hear about the passing of Nelson Mandela - he was the greatest figure of the 21st century - a fascinating man"
Al Roker: "A giant of a man, Nelson Mandela, dead at the age of 95. His legacy and his spirit will live forever...Nelson Mandela proved one person can make a difference. God bless him"
What a life, what a journey, what a man. Thank you for passing this way! God bless your resting soul! pic.twitter.com/oeQDDeRO6u — Tyler Perry (@tylerperry) December 5, 2013
Copyright E! Online