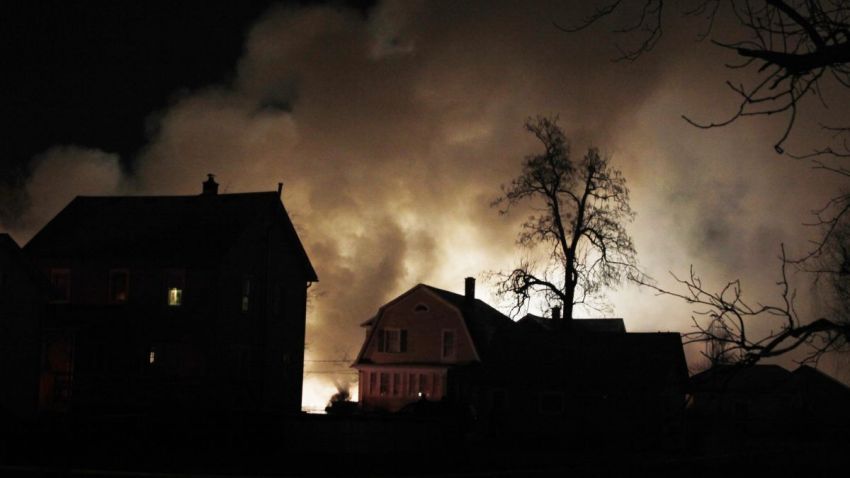 CLARENCE, N.Y. — By 10 p.m., a light cloak of snow had settled over the neatly tended homes that line Long Street, the quiet interrupted only by the occasional rumble of jets overhead.
In the white clapboard two-story set back from the sidewalk, the Wielinski family was getting ready to settle in for the night. Karen Wielinski, a secretary for the local school district, busied herself in the family room. Jill, her 22-year-old daughter, watched television in her bedroom upstairs. Husband Doug, an engineer, said he was heading up to bed.
A block away, Jaimeelyn Trujillo had the television on in her apartment. Her 12-year-old daughter, Tomasita, was working on the computer.
But the pair looked at each other when they heard a strange and unexpected humming sound — nothing like what they normally hear five miles from Buffalo Niagara International Airport.
"I could tell something didn't sound right," Trujillo said. "Planes fly over all the time. Then it went dead silent."
At about the same time, Tony Tatro was driving home from the gym in his red Grand Am. The 35-year-old medical salesman followed his usual route, driving east on Clarence Center Road, past the rows of churches, small shops and homes, many of them built from kits in the 1920s and 1930s.
He was just a minute or two from his own home, when a plane passed so low over his car that he slammed on the brakes and pulled over.
The jet couldn't have been more than 75 feet above him, Tatro guessed. He craned his neck to get a view of it, and stared up in horror.
"The nose was pointed down and the left wing was tilted," Tatro said. "It was a bad trajectory, and it was headed the wrong way. I knew it was imminent that it was going to hit the ground."
As the plane plunged down into the neighborhood, Tatro reached for his cell phone and dialed 911. It was 10:17.
A block away, Karen Wielinski, too, knew something was terribly wrong.
"Planes do go over our house, but this one just sounded really different, louder, and I thought to myself, 'If that's a plane, it's going to hit something,'" Wielinski said in an interview Friday with Buffalo radio station WBEN-AM.
"The next thing I knew the ceiling was on me."
In the Trujillos' apartment, the strange silence lasted but a moment.
"Suddenly the whole building shook and we heard a terrifying crash and explosion," said Trujillo. "I was so scared. I was paralyzed on the couch."
Trujillo said they looked out the front window and didn't see anything. Then the screams of neighbors' voices filled the air.
"Call 911! Call 911!"
People emptied into the streets. Trujillo and her daughter joined them, running toward a flaming pile of debris where a house stood seconds earlier.
There wasn't much left of the house at 6038 Long Street, but Karen Wielinski was still inside.
"I was panicking a little but trying to stay cool," she said. "I happened to notice a little light on the right of me. I shouted first in case anybody was out there. Then I just kind of pushed what was on top of me off and crawled out the hole."
As she freed herself from the wreckage, Wielinski took in the scene. The back of her house was gone. The remainder was on fire. The wing of a plane — Continental Connection Flight 3407 from Newark, N.J. — protruded from the wreckage.
By now, Tatro had pulled up to his house, a block from where the plane went down. He got out and ran back toward the flames.
"It was surreal," Tatro said. "I felt so helpless. It's a sickening feeling to watch a plane and know it's going to crash."
Trujillo ran up at about the same time.
"The house was demolished. It was all gone," she said. "We started praying. That's all we could do."
Bruised but safe, Karen Wielinski reunited with her daughter, who had also escaped. They stared back at the house, the flames now so hot and high that it forced people to back away. Was Doug still inside?
"We just had to get out of there. We just had to get away from the fire," Wielinski told the radio station.
By sunrise Friday morning, the fire was out but the toll of the tragedy was just starting to set in.
Authorities said all 49 people aboard the plane had been killed — 44 passengers, four crew members and one off-duty pilot. One person was killed on the ground, whose identity had not yet been confirmed.
Karen Wielinski said she hadn't been told the fate of her husband, Doug, but added: "He was a good person, loved his family."
And in the close-knit neighborhood that was at the center of the tragedy, residents wondered if living there will ever feel the same.
"I call it Mayberry, it's so safe and friendly and everyone knows everyone," Carolyn Hartzell said.
The Wielinskis' neighbor Marla Grefath stared out her back window at their obliterated house and wondered how she had escaped. It made her think of her late husband, Mark, who died of cancer last November at 59. He was an air traffic controller.
"I think he guided that airplane so it didn't hit our house," Grefath said.

Copyright AP - Associated Press