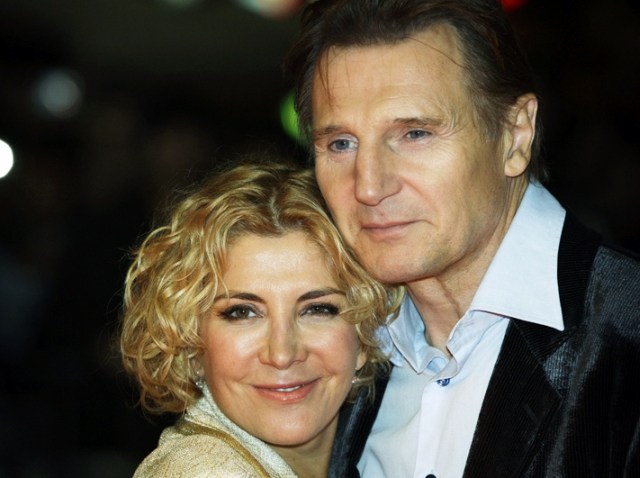 Liam Neeson threw himself into work in the months following his wife's tragic death in a ski accident, but the pain of Natasha Richardson's death still haunts him in the middle of the night, the Irish actor said in his first interview on the subject.
The actor opened up for the first time about the experience of losing his wife after the tragic March, 2009 accident and the enduring pain from her loss in Esquire's March issue.

"It hits you in the middle of the night -- well, it hits me in the middle of the night," Neeson said about the grief. "I'm out walking. I'm feeling quite content. And it's like suddenly, boom. It's like you've just done that in your chest."

When 45-year-old Richardson was pulled off of life support after suffering serious head trauma at a Canadian ski resort, Neeson said he buried himself with work to deal with the heartbreak.

"I think I survived by running away some. Running away to work.," the "Clash of the Titans" actor said. "Listen, I know how old I am and that I'm just a shoulder injury from losing roles like the one in Taken. So I stay with the training, I stay with the work…. You think you're gonna cry and get it over with. You make those plans, but they never work."

Since the tragedy, the 58-year-old actor has juggled looking after the two sons he had with Richardson with an extremely full (and no doubt agreeably distracting) work schedule, including "The Next Three Days," The A-Team," "The Chronicles of Narnia: The Dawn Treader," as well as the upcoming "Unknown," "The Hangover: Part 2," and the "Clash" sequel "Wrath of the Titans." Neeson has even returned to the Star Wars universe, voicing his "Phantom Menace" character Qui-Gon Jinn in an episode of the animated series "Star Wars: The Clone Wars."

In the interview, the Irish actor also describes the moment in the hospital emergency room in vivid detail. He said when he walked into the hospital, he was frustrated because no one would let him go see his wife.

"I pull out a cell phone -- and a security guard comes up, starts saying, 'Sorry, sir, you can't use that in here,' and I'm about to ask him if he knew me, when he disappears to answer a phone call or something," Neeson recalls. "So I went outside. It's freezing cold, and I thought, What am I gonna do? How am I going to get past the security?"

The actor continues, "And I see two nurses, ladies, having a cigarette. I walk up, and luckily one of them recognizes me. And I'll tell you, I was so f---ing grateful -- for the first time in I don't know how long -- to be recognized."
Selected Reading: PopEater, New York magazine, Esquire