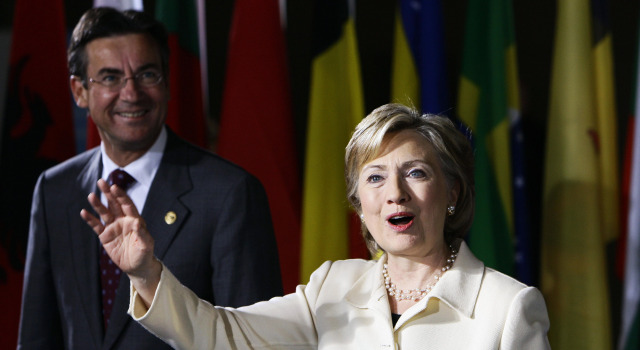 THE HAGUE, Netherlands – Diplomacy must be packaged with military action and civilian development to rescue Afghanistan, U.S. Secretary of State Hillary Rodham Clinton said Tuesday.
Clinton spoke as more than 70 nations gathered to reinvigorate international efforts to stabilize Afghanistan and Pakistan's lawless western border region.
The hastily convened one-day conference in this Dutch city brings together all the countries bordering Afghanistan, including Iran, and all nations contributing troops to the NATO-led international force fighting Taliban insurgents.
It will be opened by U.N. Secretary-General Ban Ki-moon and Afghan President Hamid Karzai.
"We have great expectations," Karzai said after arriving Monday night.
After meeting privately with the Dutch foreign minister, Clinton said she will outline to the conference President Barack Obama's new strategy — unveiled last week — for boosting security and strong government in Afghanistan.
"This conference is critical to our way forward," Clinton said, citing the Dutch approach to its operations in the turbulent southern Afghanistan province of Uruzgan. The Dutch policy of defense, diplomacy and development "is exactly the right framework," she said.
Obama said Friday he will send an extra 17,000 soldiers and 4,000 advisers to train Afghan military forces, plus hundreds more civilians to work on development issues. More than half of the 70,000 troops now in Afghanistan are Americans.
The U.S. also will pledge $40 million toward smooth elections this summer in the war-weary nation.
The European Union pledged another $79 million for election monitoring, police training and rural development over the next two years, said EU Commission for External Relations Benita Ferrero-Waldner. The EU already has allocated euro700 million for the years 2007-2010.
The meeting offers an early test of Obama's offer of better U.S. relations with Iran, and of Iran's willingness to respond. Clinton did not rule out a face-to-face meeting with Iran's representative.
"I have no plans" to seek out diplomats from the longtime U.S. adversary, Clinton said Monday. "I can't forecast tomorrow."
"The fact that they accepted the invitation to come suggests that they believe there is a role for them to play, and we're looking forward to hearing more about that," Clinton said during a news conference aboard her plane.
The leader of the Iranian delegation, Deputy Foreign Minister Medhi Akhundzadeh, said Afghans hold the key to the future of their nation, not the international military force fighting the Taliban.
"The presence of foreign troops can't bring the peace, security and stability to the country," Akhundzadeh said, in comments translated from Farsi.
Ferrero-Waldner said Iran's presence was "a good starting point," and came in response to Obama's overtures in his inauguration address in January to stretch out a hand to those who unclench their fist.
U.S. envoy Richard Holbrooke said the fact that so many nations agreed to attend made the meeting a success even before talks started.
Of the 73 nations invited, only Uzbekistan was not attending.
Holbrooke called the conference "the launch point for the international recommitment to the effort in Afghanistan and western Pakistan."
Despite the early pledges, the meeting is not intended to raise money or troops — issues that may be raised at subsequent meetings including a NATO summit next weekend.