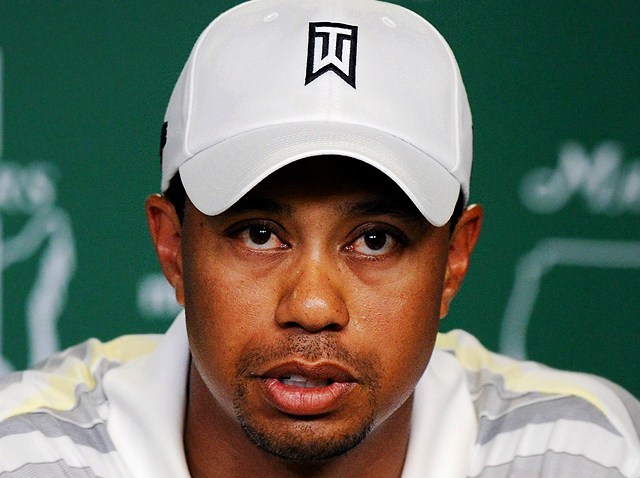 Before mastering Augusta National's 18 holes, Tiger Woods tried to master the media Monday.
For the first time since his sordid sex scandal became public, Tiger Woods answered questions from the press in an unorchestrated setting. He discussed the car accident that sent his career spiralling, his five months in seclusion since then, his 45-day stint in rehab, his relationship with his wife Elin, rumors of performance-enhancing drug use and his return to golf this weekend.
But first, he thanked the crowd that greeted him at the Augusta National course during a practice round Monday morning.
"The galleries couldn't be nicer," he said. "It was just incredible. It blew me away."
He answered questions for 36 minutes, expressing regret and remorse, but he gave few new details of the double life he led for years, or the five months since.
"I did it," he said. "I take full responsibility for it. The fact that I won golf tounaments is irrelevent. It's the pain and damage that I caused. My wife, my mom, my wife's family, my kids -- going forward, I'm going to have to explain this to them."
His wife Elin will not attend the Masters this weekend, he said. He didn't explain her absence.
Tiger talked about the car accident that ignited the scandal. In the early hours of Nov. 27, he ran over a fire hydrant and into a tree, sparking incredible revalations of rampant affairs -- as many as a dozen women have claimed to have slept with the golfing great.
"I had a busted-up lip and a pretty sore neck," Woods said. "That was it. Five stitches in the lip."
After the November accident, Woods clammed up, not talking to the media or the police.
"I did everything to the letter of the law," Tiger said. "My lawyer gave me advice, and I followed that advice."
Woods admitted to spending 45 days in a rehab facility -- "I've come out better, certainly a much better person than I was before," he said -- but he refused to say for what he was being treated.
"That's personal, thank you," he said.
He denied ever taking performance-enhancing drugs, but skirted questions about whether he had overdosed on Ambien the night of the Nov. 27 accident.
"The police investigated and fined me 164 bucks," he said. "Case closed."
Before Monday's press conference, Woods' public comments have been limited to two written statements, one public statement and two short television interviews.
His Monday press conference drew a packed crowd to the Augusta National press center. Augusta National asked media outlets to send just one reporter to ensure every organization would fit into the 207-person press center.
Before taking questions, Woods prepped with a practice round Monday morning, his second practice round at Augusta National in as many days. He teed off with Fred Couples just after the course opened at 8 a.m.
On the links, he looked rusty, according to the LA Times. He missed the green on hole 4, a long par-3, and drove into some trees left of the fairway on hole 8.
How will he do in competition? Stay tuned.
"He hit the ball pretty good today," said Mark O'Meara, who played with Woods on Sunday. "He's been practicing the last three or four weeks. He's good to go. It's going to be a different thing for him. But if anyone can handle it, he can."
Copyright AP - Associated Press