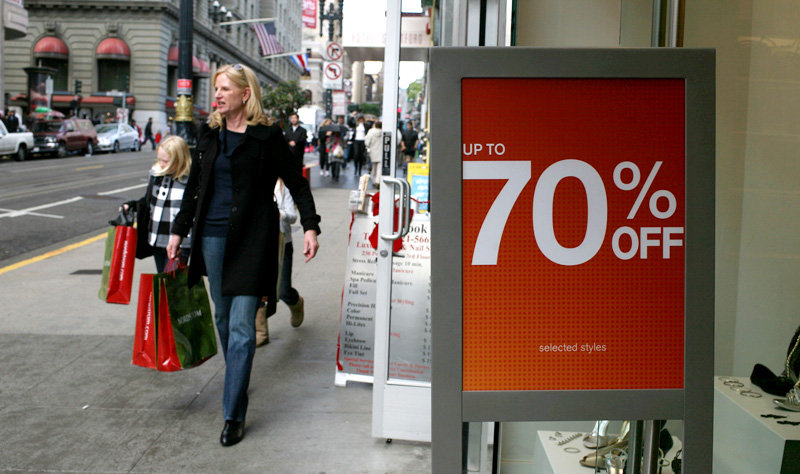 Bargain-hunters seeking a second helping of holiday door-busters get their wish today. Scores of retailers, still reeling from dismal holiday sales, slash rock-bottom prices even further to bait customers during one of the worst shopping season in decades.
Rotten sales and a surplus of inventory led stores like Macy's in New York to open their doors at 6 a.m. today and offer deep discounts on already bargain-basement prices -- J.C. Penney Co. is billing their post-Christmas sale as its biggest ever with twice the number of deals as last year.
"We're shopping, shopping, shopping, getting the sales - at Saks, Macy's," Joy Longhino, 35, of Miami, told the New York Post. "We've never done it before, but we're hoping for some deals with the economy the way it is."
Sears is offering sales of up to 75 percent off electronics clearance items and buy-one-get-one-half-off of all toys from 7 a.m. until noon, the Chicago Tribune reported.
Thousands of books and calendars are marked 50 to 90 percent off at Barnes and Noble and Neiman Marcus is offering certain styles of Ugg boots for 40 percent off, the paper reported.
Sales plummeted between 5.5 and 8 percent from a year ago due to the weak economy and winter storms that snowed in shoppers across the nation, according to preliminary data from SpendingPulse.
Food sales were strong but clothing sales bottomed out.
Women's clothing purchases dropped 22.7 percent and sales of men's clothes dropped 14.3 percent.Luxury goods -- which is defined as the highest priced tenth of jewelry, clothing and leather goods -- plummeted 34.5 percent, SpendingPulse reported.
Copyright AP - Associated Press