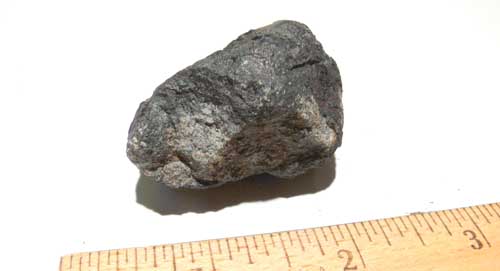 The first chunk of meteorite from the fireball that streaked across California skies last week was found this weekend, after it slammed into a woman's roof and landed on her lawn.

The find came after days of searching by scientists from the SETI Institute for potential remnants of the meteor's blaze, NBC Bay Area reported.

Lisa Webber said she remembered an odd noise she had heard Wednesday night — as of something, possibly an animal, on her roof — after she read an article about the meteor's trajectory Saturday.

The 61-year-old nurse contacted scientists at the SETI Institute after she found a rock in her yard in the North Bay city of Novato.

Those researchers, led by meteor expert and NASA Ames researcher Peter Jenniskens, inspected the dense 63-gram, two-inch rock — as well as the divot in her roof shingles where it hit — and confirmed their suspicions: It was a meteorite.

"I wasn't sure at first," Jenniskens said. "The meteorite looks very unusual, because much of the fusion crust had come off." Fusion crust is a thin, glassy coating formed on the surface of a meteorite by the intense heat generated by a meteor's speeds.

"The significance of this find is that we can now hope to use our fireball trajectory to trace this type of meteorite back to its origins in the asteroid belt," Jenniskens added.

Last week's meteor flash thrilled observers across the Bay Area with its streak of light and its loud boom Wednesday night.

"One of the coolest things I've ever seen, nothing at all like a shooting star," Jessica Collins told NBC Bay Area on Facebook.

"It was so low and close I thought it was someone setting off fireworks," Beppy Tobeler added, saying the meteor appeared to break up into pieces as she watched.

Jenniskens' team is still on the hunt for more meteorites from Wednesday's meteor and suspects larger pieces are out there, probably north-northeast of Novato toward Sonoma.