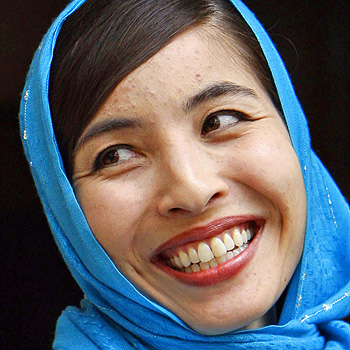 The first images of a smiling American journalist Roxana Saberi were revealed today -- a day after the jailed reporter was released from an Iranian prison.
"I am very happy that I have been released and reunited with my father and mother," she told a crowd of reporters in Tehran. "I am very grateful to all the people who knew me or didn't know me and helped for my release."
The former North Dakota beauty queen and Northwestern University grad student who was convicted of spying for the U.S. by an Iranian court was photographed outside her house in Tehran on Tuesday where she spoke to the press after an appeals court suspended the eight-year prison sentence handed down last month.
"She is in good spirits. She might be leaving the country sometime next week, but it is not certain as she has some business to take care of," said Abdolsamad Khorramshahi, one of Roxana Saberi's attorneys. "What is important is that she is not facing any legal restrictions on her departure."
Students, staff and faculty of Northwestern University praised the turn of events and plan to gather to celebrate in the lobby of the McCormick Tribune Center on the unversity campus.
The 32-year-old freelance reporter was convicted of spying for the U.S. in her family's native Iran. The Northwestern University graduate ended a more than two week hunger strike to protest her sentence after Iranian officials granted her an appeal on the espionage conviction.
The journalist was reunited with her parents after being released from Evin prison, her lawyers said. She is staying a friend's house nearby in Tehran.
"She was reunited with her father and mother. They left for their house," attorney Saleh Nikbakht said. He said Saberi was free to leave Iran immediately.
Saberi was doing well and was in good spirits when she left the prison, Saberi's father Reza said.
"I'm very happy that she is free. Roxana is in good condition," Reza Saberi said after her release.
President Barack Obama and Secretary of State Hillary Clinton were among those who joined the chorus of those asking for Saberi's release from prison.
"She is an American citizen, and I have complete confidence that she was not engaging in any sort of espionage," Obama said in April. "She is an Iranian-American who was interested in the country which her family came from. And it is appropriate for her to be treated as such and to be released."
Saberi's father said he would make plans to return home to Fargo, N.D. in the next few days. Her parents had made the journey to Iran to seek Saberi's release from prison.
Saberi is a dual Iranian-American citizen.
Copyright AP - Associated Press