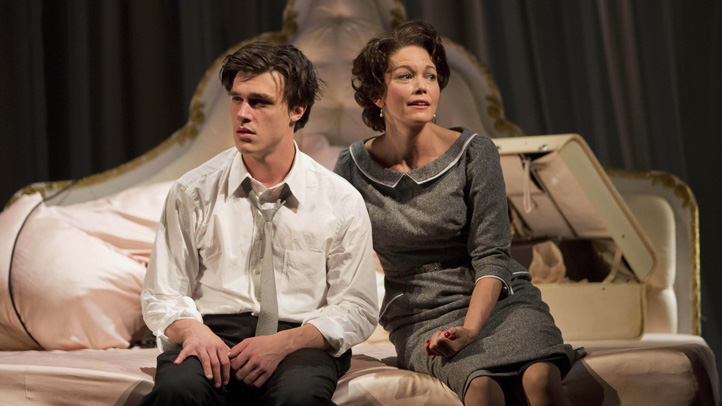 More than two decades after she last graced the stage in Shakespeare's "Twelfth Night," Academy Award-nominated actress Diane Lane is returning to the theater in a Chicago production of Tennessee Williams' "Sweet Bird of Youth."
Lane will star opposite rising Broadway actor Finn Wittrock at the Goodman Theatre, playing faded movie star Princess Kosmonopolis in the production that opens Monday and runs through Oct. 28. She will portray an older woman being used by a younger man to win back his former lover.
"I think that timing is everything in terms of the readiness for taking on a new challenge," Lane said in an interview. "A show this large and a role this demanding, certainly I've made jokes about it — mid-life crisis martyrdom or empty-nest freak out. It's sort of now or never."
Lane, 47, is best known for her star Hollywood turns in major films like "The Perfect Storm," ''Unfaithful" and "Secretariat." They have earned her nominations for Oscars, Golden Globes and Screen Actors Guild awards.
But Lane said she grew up with a theatrical background, first acting in a New York production of "Medea" at age 6. And she said returning to her roots is "sort of like a bicycle."
"I crave rehearsal," she said. "I love the team sport of sharing the process rather than it being some isolated moment."
Lane went on to act in other New York productions and touring theater festivals before pursuing film and television roles. But those taped performances over the last few decades haven't included a live audience, which takes a while to get used to.
"We had a crazy lady yelling in the theater the other night," she said. "Then we have the phones going off or somebody in the front row is warm so they're fanning themselves. It's definitely got a lot of hurdles to it. To have a normal show is a gift. It's a team experience and so, thank God, we have each other and we support each other."
Though there are rumors that the show might make it to Broadway, Lane said she is only concentrating on each performance in Chicago.
"Every night is its own universe to recreate," she said. "I can't think that far ahead. I just don't know how I'm going to feel when I come out the other end of this very long train."
Copyright AP - Associated Press