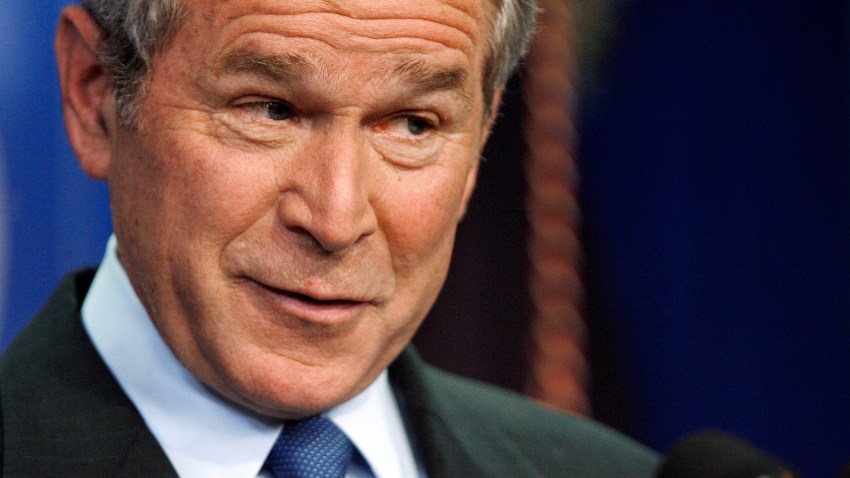 WASHINGTON — President George W. Bush knows he's unpopular. But here's what matters, he says: "I didn't compromise my soul to be a popular guy."
In a wide-ranging interview with Fox News Channel, Bush also praised the national security team assembled by President-elect Barack Obama, offered hope to U.S. automakers seeking government assistance and said the people of Illinois will have to sort out allegations that Gov. Rod Blagojevich sought kickbacks in choosing a successor for Obama's Senate seat.
Bush said presidents fail when they make decisions based on opinion polls.
"Look, everybody likes to be popular," said Bush.
"What do you expect? We've got a major economic problem and I'm the president during the major economic problem. I mean, do people approve of the economy? No. I don't approve of the economy. ... I've been a wartime president. I've dealt with two economic recessions now. I've had, hell, a lot of serious challenges. What matters to me is I didn't compromise my soul to be a popular guy."
An Associated Press-GFK poll last week showed just 28 percent of the public approving of the job Bush is doing, about where he has been all fall. Among Republicans, 54 percent approve, a low figure from members of a president's own political party.
Bush said he didn't think he would be viewed as the 21st century's Herbert Hoover, who was president during the Great Depression. He said he worked to keep the economy from collapsing.
"I'm a free market guy," Bush said. "But I'm not going to let this economy crater in order to preserve the free market system. So we made a lot of very strong moves and it's been painful for a lot of people, particularly because, you know, this — the excesses of the past have caused a lot of folks to hurt when it comes to, like, their 401(k)'s or, you know, their jobs."
He said his administration is continuing to look at options for helping the Big Three automakers and that it needs to get done "relatively soon." He said a "disorganized bankruptcy" of one or more of the automakers could cause great harm to the economy "beyond that which we're now witnessing."
"That concerns me," he said. "And the other point is that I — I'm not interested in — in really putting good money after bad."
On other subjects:
— Bush called Obama's national security team "solid," especially praising his own Defense Secretary Robert Gates, who will continue in the post in Obama's administration.
"I think the incoming administration's going to have to fully analyze the risks and the tools and — come to their own conclusion," he said. "But one thing's for certain. I'm confident that President-elect Obama knows that one of his most solemn duties is to protect the American people."
— Bush avoided discussing Blagojevich.
"They're going to have to sort it through in Illinois," Bush said. "Obviously anytime anybody allegedly betrays the public trust there's got to be great concern because, you know, democracy really is, you know, really rests on the trust of the people. It's a system of people and by people and for people. And, therefore, the public trust is important
Copyright AP - Associated Press