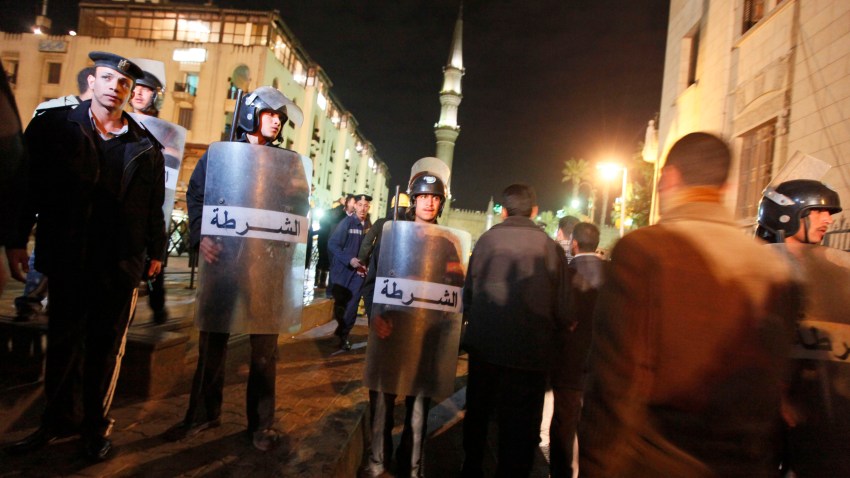 CAIRO -- A bomb exploded Sunday in a famed bazaar in medieval Cairo, killing a Frenchwoman and wounding at least 17 people — most of them foreign tourists, officials said.

Within an hour, police tracked down a second bomb and detonated it safely, an official said.

A medic on the scene said all the injured were taken to the nearby Hussein hospital and the French woman died of her wounds in the intensive care unit.

The Khan el-Khalili, which sells souvenirs, jewelry and handicrafts, is always filled with tourists. It was last attacked in April 2005, when a suicide bomber killed two French citizens and an American.

Sunday's blast outside a cafe sent a panicked rush of worshippers from the nearby historic Hussein mosque.

"I was praying and there was a big boom and people started panicking and rushing out of the mosque, then police came and sealed the main door, evacuating us out of the back," said Mohammed Abdel Azim, 56, who was inside the historic mosque. Outside, blood stained the marble paving stones.

Among the wounded 11 French and three German tourists as well four Egyptians, said a security official. A frantic woman screamed at police sealing off the area to let her look for her daughter.

The outdoor cafes and restaurants lining the square were packed with crowds, including a large group of Irish tourists at Mohammed Said's Al-Sinousi Cafe.

"There was a big loud boom. Everybody ducked," the cafe owner said. "I ran out to figure out what's happening."

The blast sent panicked crowds running in all directions, he said.

A police colonel at the scene said the small bomb outside the cafe kicked up stone and marble fragments, which wounded the passersby. All the officials describing the blasts spoke on condition of anonymity because they were not authorized to speak to the press.

Egypt fought a long war with Islamist militants in the 1990s, which culminated in a massacre of more than 50 tourists in Luxor in 1997. The rebels were largely defeated and there have been few attacks since in the Nile valley.

There were, however, a number of attacks in recent years against resorts in the Sinai Peninsula, including one in Sharm el-Sheik in 2005 that killed more than 60 people.

Tourism is one Egypt's major sources of foreign income.
Copyright AP - Associated Press