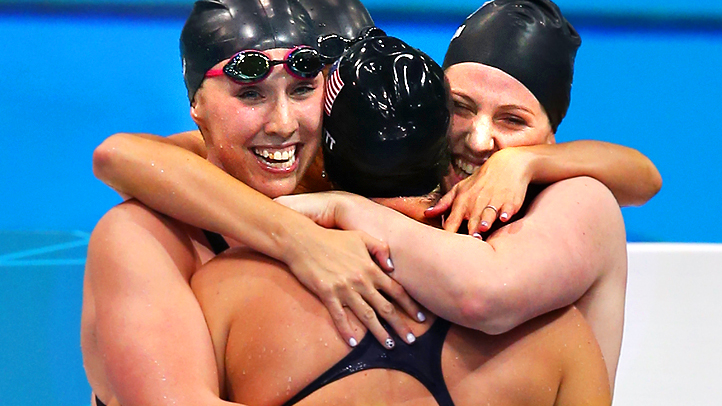 U.S. swimmers dominated in the pool again Wednesday, with an Olympic-record setting win for the women's team in the 4x200m freestyle relay and a surprising gold for Nathan Adrian in the 100m freestyle.
Anchor swimmer Allison Schmitt powered the women to victory, overcoming a half-second lead by the Australians to rally her team to win by a margin of more than a second.
"I had confidence in them," Schmitt said of her teammates, "and I just wanted to bring it home for them."
The Team USA foursome, rounded out by Missy Franklin, Dana Vollmer and Shannon Vreeland, clocked in at an Olympic-record 7:42.92 seconds. The Aussies finished at 7:44.41.
"Allison is a fighter and she can push through anything," Franklin told The Associated Press. "We had total faith in her."
Schmitt's powerhouse final leg gave the 22-year-old her second gold medal in as many days, after she finished the 200m freestyle Tuesday night, more than two seconds ahead of the second-place finisher from France. It also delivered Franklin and Vollmer their second gold each at the Olympics, after Franklin won the 100m backstroke and Vollmer the 100m butterfly.
The U.S. women's relay win Wednesday came on the heels of an unexpected win in a men's event, when Adrian stunned his Aussie world champ rival, his star teammate Ryan Lochte and even himself in the 100m freestyle sprint.
"We were in the ready room and we watched it and just went nuts," Lochte said. "We were screaming and everything. That was one of the greatest finishes."
Adrian won by a hair, becoming the first American to clinch the gold in the event since 1988.
"I had no idea, to be honest,'' the Berkeley, Calif.-bred swimmer told the AP. "I'm a guy that has a lot of speed and I can go out fast and I die a little more than he does."
That sure didn't happen Wednesday in the 100m final. Adrian clocked 47.52 seconds to win by 0.01, just ahead of James "The Missile" Magnussen of Australia. Magnussen touched in 47.53 to take the silver medal, and Brent Hayden of Canada finished in 47.80 for bronze.
"It is very humbling," Magnussen said. "It is a pretty tough time to learn you are human."
Despite U.S. dominance in men's swimming, with Adrian's towering teammate Michael Phelps setting a record Olympic medal haul with another gold Tuesday, an American win in Adrian's sprint hadn't come since Matt Biondi's in Seoul.
The Americans notched another notable win, during a non-medal race, when Rebecca Soni broke the world record for women's 200m breaststroke in the semi-finals, clocking 2:20.00. The previous world record was set in 2009.
"Whoa, Rebecca just set a world record," Adrian, who had just won the 100m free, remarked just after her finish. "I'm overshadowed by Rebecca setting a world record."
"It's been four years since I swam close to that fast, so it's great to be back on top like that," Soni told the AP.
Soni will race in the finals at 2:40 p.m. ET Thursday.
Copyright AP - Associated Press