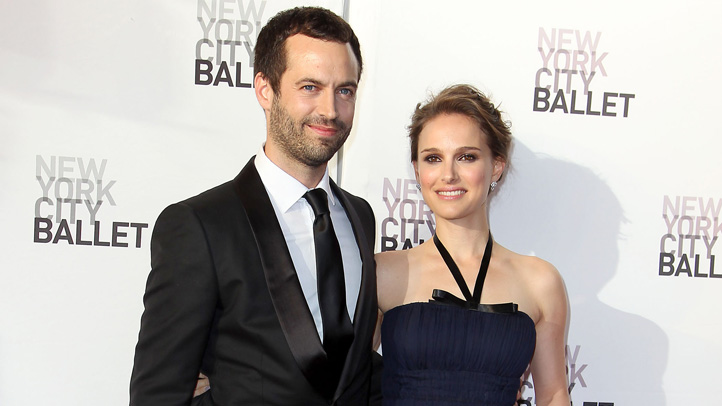 Natalie Portman has married her dashing dancer.
Though she's been wearing a very suspect ring for months now, the Oscar winner formally swapped vows with Black Swan choreographer Benjamin Millepied in a Jewish ceremony Saturday evening in front of family and friends in the coastal California region of Big Sur, according to Us Weekly.
We imagine that their first dance as husband and wife was a doozy.
Natalie Portman takes baby Aleph out in his pajamas
Portman and Millepied are parents to 1-year-old son Aleph, who while still in utero was his mom's constant companion as she accepted award after award for Black Swan, the whole time never failing to mention the "beautiful love" she found working on the film.
Upon accepting her Oscar in February 2011, the quite pregnant Portman credited Millepied for giving her "the most important role of [her] life."
And then there was her more jocular Golden Globes speech the month before.
Portman takes on ambassadorship for Feed the Children
"Benjamin choreographed the film, and also you might remember him in the movie as the guy when they ask, 'Would you sleep with that girl?' And he's like, 'Pfft, no,'" the Best Actress winner recalled of his character's reaction to her guarded, superserious (and delusional!) Nina. "He's the best actor. It's not true--he totally wants to sleep with me!"
Sure enough, Portman, 31, pulled a double-whammy when she revealed in December 2010 that she was both engaged to and expecting a child with the now 35-year-old French dancer. That June, Millepied had referred to her as his "girlfriend" in an interview with Details, adding, "We just want to keep things to ourselves."
But try doing that with a baby bump!
Natalie Portman is naturally gorgeous on the cover of Madame Figaro
The couple and their little boy have been splitting their time between New York and Los Angeles, with the occasional jaunt around the world, ever since.
Portman, who since Black Swan has appeared in more light-hearted fare like No Strings Attached and Your Highness, shared an intimate family dinner with her parents and Aleph at the Long Island restaurant Prime on July 27--and witnesses told E! News they appeared to be in celebration mode.
The happy foursome enjoyed a vegetarian--what else?--feast created specially for the bride to be.
--Additional reporting by Brandi Chang
Take a look back at Natalie Portman &Benjamin Millepied's romance
Copyright E! Online