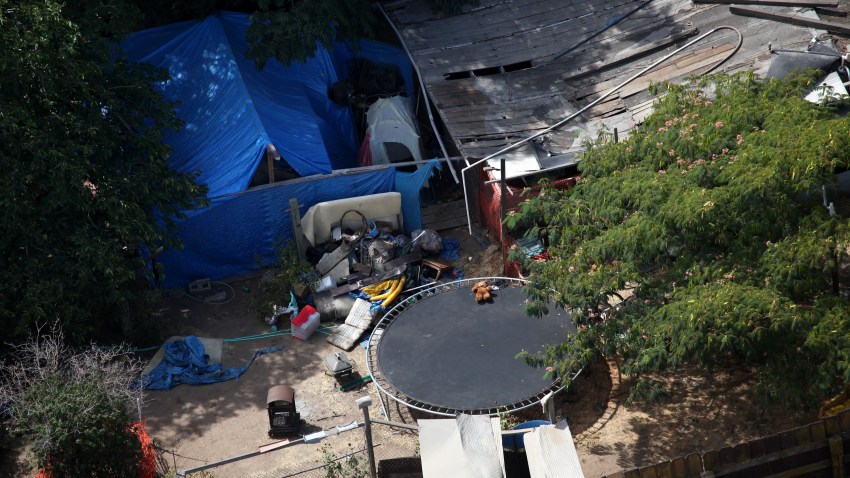 Investigators brought cadaver dogs to the Antioch property of Phillip and Nancy Garrido Thursday. They are the couple suspected of kidnapping Jaycee Lee Dugard in 1991.
Investigators from Hayward and Dublin are looking for clues in two missing childs' cases.
Hayward officers were at the property seeking information related to the case of Michaela Garecht, who was abducted in 1998 at age 9 outside of a Hayward grocery store.
Dublin investigators are there looking for ties to Ilene Misheloff, who was 13 when she disappeared in 1989.
Two separate dogs became interested in the spot Thursday, according to detectives. The dogs were sent to search the property at separate times with separate handlers, so the fact that the same area was spotted could be significant. Investigators said more sophisticated equipment will be brought in Friday to dig where the dogs appeared to find something. The dogs are specifically trained to find cadavers.
Crews will also remove and dig under at least two random slabs of concrete on the Garrido property at some point Friday before taking the weekend off.
Other than the dog finding, there were no big developments Thursday from the extensive search of the property.
The dogs arrived one day after search crews announced they found several bones on the Garrido property and the property next door to the Garridos.
They said they did not know if the bones were human or animal.
Hayward police officer Chris Orrey said they "found a few bones on the neighbor's property" and one bone on Garrido's property. All of the bones were found in the yard.
Orrey said she had not seen the bones and could not describe them.
The original search of the properties by investigators in the Jaycee Dugard case found a bone fragment which authorities have said it is likely a human bone. Tests are still being performed on that bone.
Day two of the search went faster then expected. Officer Orrey said they made it through 75 percent of the debris area of the backyard which filled up three trucks. She said she expects to fill eight to 15 more trucks before they are done. The debris consists of everything from trees to trash to evidence.

Orrey said they have had an investigator on the case from the beginning and have investigated 13,000 tips, but the Garrido tip was one of the strongest she is aware of in all that time. She noted similarities in the manner of abduction, ages of the victims and suspect descriptions from the Garecht and Dugard abductions.
Hayward Police Search Warrant PDF
"We're taking another shot at the property to see what we can find," Orrey said.
Investigators say they would tear the entire house down if they felt it was needed. They said they would not leave the property without a complete search of the large piece of property.

Dublin investigators were also part of the new search. Dublin officer Lt. Kurt von Savoye said Garrido had been released from prison just a few months prior to Ilene's disappearance.
Dublin Police Search Warrant PDF
"People who commit these offenses tend to be predatory" and generally have multiple victims, von Savoye said.

Both agencies promised a very methodical search of the property. Aerial footage of Garrido's backyard showed officers on their hands and knees searching blades of grass and dirt by hand. Hayward and Dublin investigators said they also planned to use ground-penetrating radar in their search.
Phillip Garrido, a convicted sex offender, is being held on $30 million bail.
Nancy Garrido is being held without bail.

Both defendants are due back in court in late October.