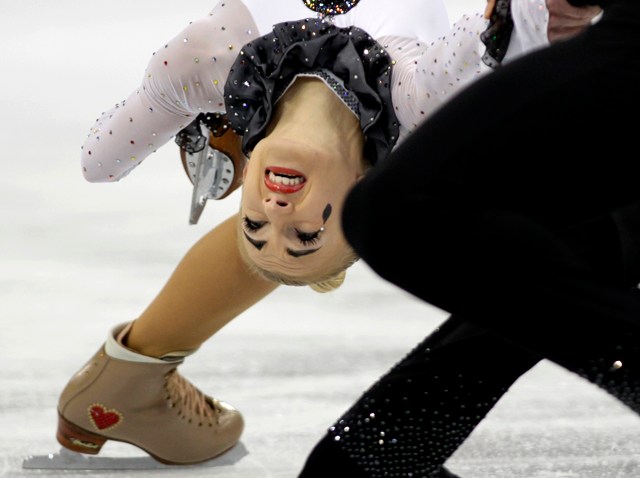 Welcome to Watch List, where we identify five things tonight that may possibly be worth reneging on your promise to attend your son's piano recital. LET'S GO!

I am dismayed that every other network decided to air reruns during the Olympics this winter. HAVE YOU PEOPLE NO BACKBONE? Anyway, here's the lineup.

WINTER OLYMPICS - 8:00PM (NBC)

Tonight, fair Olympic watcher, your Vancouver pu pu platter includes the men's snowboard cross finals, the 500M speed skating finals, and the gold medal final of pairs figure skating. I have very little expertise in judging the latter event, but I will say this: Chazz Michael Michaels IS figure skating. ANTICIPATION: HOPING FOR IRON LOTUS

THE BACHELOR: ON WINGS OF LOVE – 8PM (ABC)

Tonight, Jake takes the three finalists (flies them?) to the island of St. Lucia. There, a mysterious man known only as Mr. Roarke and his dwarf assistant will have their every fantasy come true. But sometimes, you must be careful what you wish for.

I wonder if making the finals of "The Bachelor" is something you can put on a resume. Does it count as an "accomplishment"? I mean, these girls did work to make that final three. They kissed. They clawed. They showed some real determination. Surely, that deserves recognition. ANTICIPATION: MOST SHOCKING ROSE CEREMONY EVER, WE SWEAR

RADIOHEAD: LIVE IN STUDIO – 9PM (Channel 101, DirecTV)

The biggest rock band on the face of the Earth performs a concert in studio. And if you think that'll be as exciting as Aerosmith's "What It Takes" video, "Bodysnatchers" is here to prove you wrong.



ANTICIPATION: HIGH, IN A VERY SNOBBY AND OBNOXIOUS WAY

WESTMINSTER DOG SHOW – OPENING NIGHT – 8PM (USA)

It's like the Olympics, except with dogs, and heavyset people walking very quickly in thick-soled shoes they clearly bought at Payless. These people spend everything on their dogs and have nothing left for a decent out fit of their own. It distresses me. ANTICIPATION: TAIL IS WAGGING

WWE RAW – 9PM (USA)

Guest host Jerry Springer. Objects will be thrown. ANTICIPATION: VIOLENCE.