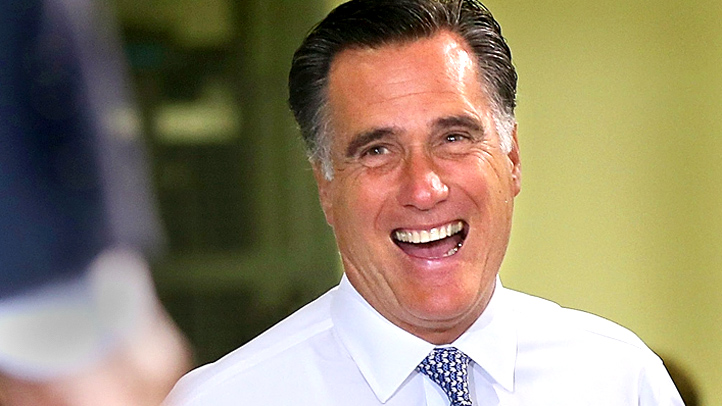 Mitt Romney will deliver the most important speech of his campaign at the Republican National Convention Thursday, speaking to millions of people a day after his
running mate Paul Ryan accused President Obama
of failing to deliver on promises and failing to lead.
The speech will be Romney's big moment to connect with voters and articulate how he'd run the country.
According to released excerpts, he will accuse President Obama of dividing the country and failing Americans who voted for him. He will also cast himself as the solution to the problem, assuring Americans that, if elected, he would "lift our eyes to a better future" with a 5-step plan to create 12 million new jobs.
"I wish President Obama had succeeded because I want America to succeed. But his promises gave way to disappointment and division," he will say. "This isn't something we have to accept. Now is the moment when we can do something. With your help we will do something."
He will add that "today the time has come for us to put the disappointments of the last four years behind us. To put aside the divisiveness and the recriminations. To forget about what might have been and to look ahead to what can be."
His 5-step jobs plan includes expanding the supply of fossil fuels, broadening school choice, negotiating new trade agreements, reducing taxes on businesses and repealing "Obamacare."
Calvin Jillson, a political science professor at Southern Methodist University says "the real importance of Romney's speech is that he has one hour with the American public paying close attention to him to introduce himself and the central themes he hopes to conduct his campaign on."
For complete politics coverage, visit NBCPolitics.com.
If the speech is to be successful, NBC News' First Read says Romney must meet four objectives:
He has to better introduce himself to the American public.
He needs to convince the public that, while he looks the part, he's the man Americans are comfortable seeing on their TVs for the next four years.
He has to try to close the empathy gap.
And he needs to put some meat on the policy bone to make the case how his plans could actually work better than Obama's and how they are different from the past Republican administration.
Visit NBCNews.com for breaking news, world news, and news about the economy
In a race that has been extremely close, the stakes are very high. Most voters are only now beginning to tune in to the presidential race, after a bitter and extended Republican nominating contest and a negative campaign in which Romney and Obama have relied on negative advertising.
Republican colleagues urged the normally reserved Romney to make an emotional connection, according to the Associated Press.
Romney appeared prepared to discuss his Mormon faith in more direct terms than usual, a direction signaled by Ryan on Wednesday in several allusions to the duo's differing religions but "same moral creed." Some Americans view Mormonism as not part of the Christian tradition.
According to excerpts, Romney will follow that thread, saying that his church reflected the diversity of America.
"We had a remarkably vibrant and diverse congregations of all walks of life and many who were new to America. We prayed together, our kids played together and we always stood ready to help each other out in different ways," he will say. "And that's how it is in America. We look to our communities, our faiths, our families for our joy, our support, in good times and in bad."
One potential way of boosting Romney's appeal among voters who have yet to warm up to him could be keeping the focus squarely on Obama and his record.
"There are two ways to deal with the problem of likability," said Marjorie Hershey, professor of political science at Indiana University. "One is try to make yourself more likeable, which isn't easy at this point, and the other is just to try to play down the importance of likability by raising the fears of the other candidate."
On the eve of the speech, Romney was still reworking what he would say, according to his wife Ann Romney, who confessed at a Latino luncheon Wednesday that "if someone were to ask me what is he going to talk about, I'm like, 'not quite sure!' cause he keeps almost rewriting it."
Romney hinted at the themes of speech in a morning fundraising appeal emailed to supporters.
"We believe in America, even though the last four years have been full of difficulties and disappointments, doubt and despair," Romney said. "We believe in America, even though President Obama's failed policies have left us with record high unemployment, lower take-home pay, and the weakest economy since the Great Depression."
This week's convention has given the party a chance to show itself in its best light and energize a conservative base that has been wary of Romney's more moderate positions on social issues as governor of the liberal-leaning Massachusetts.
The choice of Ryan as running mate has helped reach out to solid conservatives. The congressman, with a reputation for vigorous attempts to cut government spending, has become the party's darling since joining the ticket.
Relishing his role as Romney's attack dog, Ryan ripped into the president on Wednesday night, calling Obama's economic stimulus plan "a case of political patronage, corporate welfare and cronyism at its worst." He ridiculed the president's health care reform initiative and claimed Obama was shortchanging the elderly by cutting Medicare.
Ryan at times misrepresented Obama's record and other times seemed to overlook his own according to the Associated Press. But Ryan's message, delivered with composure and confidence, was well received by GOP faithful gathered in Tampa.
"We will not duck the tough issues, we will lead," said Ryan, 42, a congressman from Wisconsin. "We will not spend four years blaming others – we will take responsibility."
In a letter sent Thursday morning to potential Democratic donors, Obama campaign manager Jim Messina argued that the Ryan speech "represents a huge bet by the Romney campaign — they've decided that facts, truth and reality will not be a brake on their campaign message."
There was no shortage of advice for Romney from armchair speechwriters on all sides.
Jeb Bush, the brother and son of former presidents, said it was critical for the normally reserved GOP nominee to connect with people on an emotional level — even if he's never going to be "a new-age kind of guy."
"Where it matters is connecting with other people's concerns," Bush said in a round of morning talk show interviews. Only then, he said, will voters be ready to hear the candidate's case.
Copyright AP - Associated Press