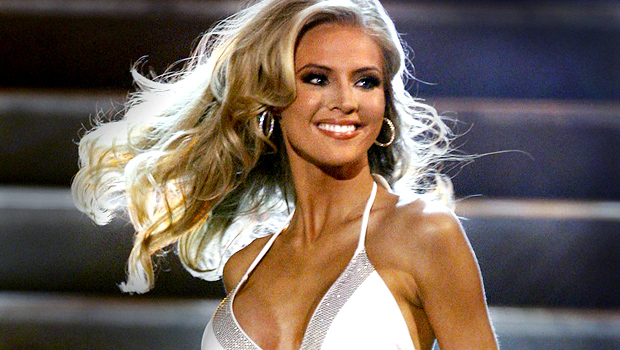 For 51 young women from across America, beauty came to (figurative) blows Sunday as they competed for the Miss USA crown.
When the (figurative) biting and the scratching was over, Miss North Carolina, Kristen Dalton, followed in the footsteps of her state's NCAA basketball champions, the UNC Tar Heels, and won the big dance.
The 22-year-old aspiring motivational speaker and entertainer from Wilmington, N.C., edged out first runner-up Miss California USA Carrie Prejean, of San Diego, and second runner-up Miss Arizona USA Alicia-Monique Blanco, of Phoenix.
"It feels really natural," Dalton said of her win. "I've worked so be here and this has been my lifelong dream and it's finally here. And whoever knew you could win in a turquoise gown?"
Contestants from all 50 states and the District of Columbia were judged by their performance in a swimsuit and evening gown modeling contest and their responses to questions asked onstage. Unlike the rival Miss America pageant, the Miss USA contestants do not perform a talent.
Miss California, Carrie Prejean, was the first runner up, but may have been hurt by her answer to a question by judge Perez Hilton on gay marriage.
"We live in a land where you can choose same-sex marriage or opposite marriage," Prejean said. "And you know what, I think in my country, in my family, I think that I believe that a marriage should be between a man and a woman. No offense to anybody out there, but that's how I was raised."
Some in the audience cheered, others booed. The answer sparked a shouting match in the lobby after the show.
"It's ugly," said Scott Ihrig, a gay man, who attended the pageant with his partner. "I think it's ridiculous that she got first runner-up. That is not the value of 95 percent of the people in this audience. Look around this audience and tell me how many gay men there are."
Charmaine Koonce, the mother of Miss New Mexico USA Bianca Carla, argued back. "In the Bible it says marriage is between Adam and Eve not Adam and Steve!"
Dalton dethrones Miss USA 2008 Crystle Stewart, a 27-year-old Texan who worked to raise awareness for breast cancer as she traveled the globe promoting the beauty contest.
The title comes with a year's use of a New York City apartment, a public relations team, a two-year scholarship at the New York Film Academy and an undisclosed salary.
Dalton will also go to the Bahamas in August to compete in the Miss Universe pageant, where American beauties haven't been lucky in recent years. Both Stewart and predecessor Miss USA Rachel Smith wiped out on stage during the evening gown competition, becoming accidental YouTube stars.
Stewart had avoided the foibles and scandals that have followed other recent pageant winners. Earlier this month, Miss Universe 2008 Dayana Mendoza was skewered for a blog posting from a trip to Guantanamo Bay. The entry described having "aloooot of fun" at a base that houses the notorious military prison and was later deleted from the pageant's Web site.
The contest, which is owned by NBC and reality TV mogul Donald Trump, was hosted by "Access Hollywood" co-anchor Billy Bush and Nadine Velazquez of the NBC sitcom "My Name is Earl." This year's judges included "Saturday Night Live" cast member Kenan Thompson, "Dancing with the Stars" winner Kelly Monaco and gossip blogger Hilton.
Miss Wyoming USA Cynthia Pate, of Casper, Wyo., was voted Miss Congeniality by her fellow contestants. Jessi Pierson, of Milton, W.Va., was voted Miss Photogenic through an online contest on the Miss Universe Web site.
Organizers said Sunday's show kicked off "Green Week" at NBC. As part of the environmental awareness campaign, the Miss USA crown was designed by a jeweler that specializes in conflict-free and eco-friendly jewels. The crown from Diamond Nexus Labs of Franklin, Wis., is worth $202,000.
Copyright AP - Associated Press